A Mom Got Sick Of Seeing Short-Shorts For Girls, So She Started Her Own Line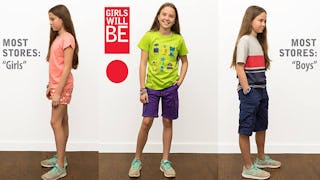 New clothing line offers "in the middle" options for girls
Anyone who has shopped for little girls' clothes knows there are only a few options out there, namely short, tight, and pastel. And, we know this is a wild concept, but not all girls like wearing clothes with hearts, flowers, and princesses on them.
Sharon Choksi, founder Girls Will Be, decided to do something about the lack of options for girls. She said the inspiration for her new line of clothing, came from her daughter and niece, Maya and Grace, who wanted to wear clothing that wasn't frilly, "nothing with bows" and absolutely "NO sparkles." They were interested in "climbing trees, building LEGO creations, and playing with cars and trucks," Choksi said.
When Choksi couldn't find anything that fit the bill, she decided to do some research on her own.
She collected boys and girls clothes from 10 of the biggest retailers that were all meant for kids of around the same size and age and measured them. What she found was that the girls' shirts were one to three inches thinner. The sleeves were shorter. And the girls' shorts were barely a third of the length.
A person may say, 'yeah but boys are bigger than girls, that's why the size difference.' Unfortunately, that's just not true. According to KidsHealth.Org, girls are usually taller than boys until the age of around nine because they start puberty before boys.
I was a tomboy growing up and spent my time climbing trees and playing kickball with the boys. I did all this in short-shorts and sparkly shirts because that was all that was available, even in the 70's. Sure, I played with dolls and Barbie's sometimes, but it didn't mean I wanted to be one.
"We believe girls and boys are more alike than they are different," Choksi tells Scary Mommy. "They are all kids with a wide variety of interests, from dinosaurs to kittens and football to ballet, and they should all have clothes that reflect who they are and what they like. After all, clothes are one of the biggest ways kids express their individuality and tell the world a little bit about themselves."
In 2013, Choksi, along with her brother and sister, launched Girls Will Be, a brand aimed at making sure girls could find shorts featuring an "in-the-middle" fit in a range of colors, with options beyond princesses and glitter, which showcase their interests and not their bodies.
The results spoke volumes. Choksi sold out of almost everything they had made for their initial launch and were left scrambling to make additional merchandise. "Parents were clearly looking for clothes that defied gender stereotypes and offered girls more unlimited choices of colors, themes, and styles than they could find in mainstream retail," Choksi said.
So what's next for this stereotype-busting company? "In terms of new styles, we have a long wish list of things we would like to add, because we know girls need so many things with our signature "in-the-middle" style – with swimsuits and pajamas at the top of the list," Choksi tells Scary Mommy. "You can bet next summer we'll be back with even more styles of not-so-short shorts."
We are excited to see where they go from here.
This article was originally published on