Mom And Daughter Duo Take Disney Cosplay To A Whole New Level
by Megan Zander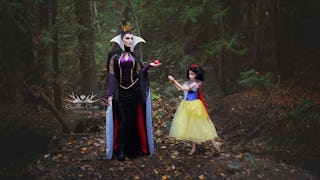 Image via Disney Inspired Photo
This mother daughter duo is nailing Disney cosplay
Layla is only seven years old, but she probably has way more Instagram followers than you do. She and her mom are the faces behind Disney Inspired Photo, an account that posts jaw-droppingly gorgeous photos of the two of them looking like iconic characters from our favorite Disney movies (which you can now binge-watch on Disney+ for $6.99/month).
The whole affair started as a fluke. The family visited Disneyland in 2014, and after paying for a gorgeous yet pricey dress at Bibbidi Bobbidi Boutique (the magic is how they get you to spend all your money), Layla's mom, photographer Camillia Courts decided to snap a few photos of Layla in the dress before it got a Mickey ice cream bar all over it.
People loved the photo, so Courts decided to plan another princess photo shoot. From there the hobby snowballed. Now the pair has over 50,000 followers and get requests for certain characters.
"I think our project resonates with parents and anyone who loved Disney movies as children," Courts tells Scary Mommy. "We are creating some really fun and unique memories together, and although what we are doing isn't really new, I think we are doing it in a way that is original. We can put our own spin on it."
The duo gets lots of attention over the photos of Layla, and we get it — plenty of parents wish they could copy those same looks with own daughters and they use Courts and Layla's photos as inspiration. But we're also loving the photos where Courts steps out from behind the camera and embraces her own Disney dark side.
While Courts loves all the looks, she's partial to the sea witch. "My favourite look is Ursula!" she confesses. "I felt SO glam! Although I also loved the live action Maleficent. Such a fab and beautiful look, and my make up artist Missy Mackintosh killed it!"
Not everyone wants to be a princess when they grow up.
Courts says it took joining her daughter during the photo shoots to see that's where the real magic was — in dressing up together. "We had done about 8 princesses and it was Halloween so I thought I'd dress as The Evil Queen," she says. "And that was when I realized that people like to see us together!"
Their followers aren't the only ones who love it when the two make an appearance together in character. "My daughter LOVES when I'm in the photos!"
Good or bad, land or sea. Whatever these two ladies show us next, we're here for it.
This article was originally published on