Mom Demands Refund For Christening Cake Because Of 'Beargina'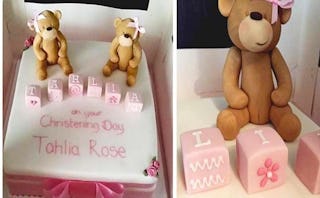 A New Zealand mother was horrified when she received her daughters christening cake and saw what appeared (to her, only) to be anatomically correct teddy bears. Some people see Jesus in burnt toast, some people see vaginas on fondant cake bears. I never thought I'd have cause to write the word, "beargina" — but the internet is a strange and mysterious place.
The mother ordered the $138 cake for her toddler daughter's special day from Occasion Cakes. It featured teddy bears, blocks, and apparently — vaginas. Well, bearginas. Judge for yourself:
Mom wrote a long and hilarious complaint on Occasion Cake's Facebook page:
Hi there. I am contacting you regarding a cake I ordered… When I had taken the cake home I was horrified to discover that both teddy bears on the cake had been given totally inappropriate detailing regarding their gender by your cake decorator. I find this detailing offensive and completely inappropriate to include on my 3-year-old daughter's christening cake. Please contact me to discuss this matter as I am appalled at the condition the cake has been given to me in.
Here's the owner of the cake shop's on-point response:
…I must express my complete amazement at the reason for your complaint and can assure you that the crease in the teddy on the top of your cake is supposed to represent the seam where the bear has been sewn together. For anyone to think it's anything else I find incomprehensible — it's a teddy bear!
I also believe you managed to get our assistant… to come back after she had closed and she agreed to put some strategically placed flowers on the cake… she made strenuous efforts to comply with your request and whatever interpretation you put on it, the area was covered up. That being said I am puzzled further as you still thought the cake was inappropriate to put out at the event and are now demanding a refund.
Under the circumstances I feel unable to agree that any refund is therefore warranted.
See, the customer isn't always right. Especially when she sees a vagina on a cake-bear that totally isn't there.
By the way, here's the same cake, made for a boy:
Bearginas, everywhere.
This article was originally published on