Mom Carrying Baby Stroller Dies In Fall Down NYC Subway Stairs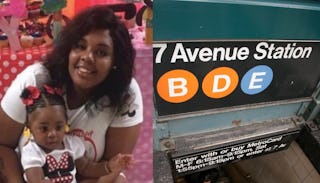 Image via GoFundMe/Jeff Greenberg/Getty Images
A mother's tragic death while carrying a stroller down a subway stairwell highlights major problems with public transportation
The New York Times reports that 22-year-old Malaysia Goodson died after falling down a flight of New York City subway stairs while carrying her one-year-old baby in a stroller. While the cause of death hasn't been verified yet, the accident brings attention to the deplorable access issues in the NYC subways, as well as in public transit systems around the country.
Officials said that Goodson was navigating the stairs at the Seventh Avenue subway station, at 53rd Street, around 8 p.m. on Monday when the fall took place. She was unconscious and unresponsive when emergency responders arrived, and pronounced dead at Mount Sinai West hospital upon her arrival. It's not yet clear if she had a medical condition or if she died from the fall. NBC News 4 reports the heartbreaking detail that she was still holding the stroller in her hands when she was found unconscious.
Her daughter, Rhylee, was conscious and treated at the scene. She's now with her father and grandmother.
The Metropolitan Transportation Authority said through a spokesperson that they would investigate the death and called it a "heartbreaking tragedy."
As news of Goodson's death spread, a spotlight has been shone on how inaccessible the subway system is in New York – and throughout other cities as well. The station where Goodson fell did not have an elevator, just like 75 percent of stops along the system. Even the stops that do have elevators suffer from equipment breakdowns an average of 53 times a year, according to a study. Even when elevators are present and working, they're often cramped, poorly kept, and far away from the trains.
If you think this all sounds totally illegal, you might be right. The Metropolitan Transportation Authority is currently facing a lawsuit regarding how inaccessible its stops are – there are some stretches where there's not a handicapped accessible station for ten stops in a row. The lawsuits say that the subway system violates the city's human rights laws in addition to violating the Americans with Disabilities Act.
But this is not just an issue in New York City. While San Francisco and Washington, D.C. have fully accessible stations, other cities like Boston, Philadelphia, and Chicago are only doing slightly better, with 74 percent, 68 percent, and 67 percent accessibility respectively.
It's worth noting that most people need elevator service to the subway at some point in their lives, whether they're parents with bulky strollers, people with injuries, or the elderly.
Already, just a day after the incident, some officials were calling for fully-ADA-compliant stations, like Jeffrey Dinowitz, a New York State Assemblyman from the Bronx.
At the same time, parents on social media shared stories of how hard it can be to navigate public transportation with kids under four – and at times, how it's dangerous or even impossible. Others urged everyone to help moms who are attempting to carry bulky strollers up or down stairs when there isn't an elevator available.
Of course, relying on the kindness of strangers is nothing in comparison to having a transit system that takes the needs of all people into consideration.
If you'd like to help Goodson's family in the wake of her passing, there's a GoFundMe set up to help support her little girl.