Mom's Halloween Decoration Screams 'No Sh*ts Were Given'
by Julie Scagell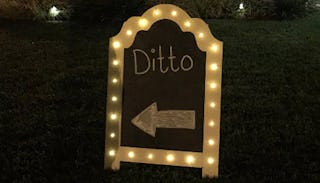 Image via Twitter/HarryCFC
This mom's Halloween game is on point
We all have that friend who goes completely over-the-top decorating for holidays .Then, there are the ones whose decorating style can best be described as…not so much.
The latter would describe Harry's mom, Joanna, who decided she had all the Halloween spirit as her neighbor but didn't quite want to go to the trouble of actually decorating her California home this year. Harry shared the photographic evidence on Twitter last wee,k and it has people spitting out their candy corn in fits of laughter.
"My neighbor's Halloween decorations vs. my mum's," Harry wrote.
Comedy level: master
But if Harry's first picture made you laugh, stay tuned for his second one.
"(Night version)" it reads. The sign lights up so you can see it at night. This is magic.
To be fair, Joanna's neighbor looks like they may have bought out all the Halloween decorations in the entire state of California, so it's no wonder she was left with only a yard sign.
They've got skeletons, ghosts, a makeshift graveyard and even a blowup haunted house leading to their entry way. They probably give full-sized candy bars away, too.
Joanna is a woman after my own heart. I have two speeds when it comes to preparing for any holiday – "fuck all" or "episode of Hoarders" and there is no in between. I typically have the Christmas tree up before Thanksgiving, garland covering every square inch of the house but by Easter all I can muster is a hand-me-down bunny of my mom's with one ear ripped off. Sorry kids, the Easter Bunny called and cancelled his egg hunt again this year — get used to disappointment.
Harry told Scary Mommy this isn't unusual for his mom. "She's awesome! She's always this hilarious," Harry said. "I'm just glad people got to see just how funny this time!"
Harry said the family usually goes all out for the Christmas holiday but Halloween apparently isn't his mom's jam. For his part, Harry said she's decorated in the past "but it was just this year that she decided to crack a Halloween joke," he said. "It was hilarious when she showed me the idea."
To be fair, she does also appear to have a carved pumpkin outside on her porch, so she's not entirely leaving it up to the family next door to carry the neighborhood this year. There are only so many hours in a busy mom's day — we feel you, Joanna.
This article was originally published on