Mom Donates Record-Setting 15 Gallons Of Breast Milk For The Best Reason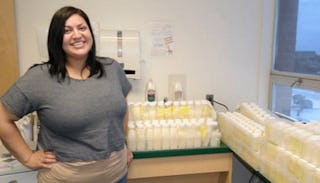 Image via Facebook
Texas mom sets hospital record with 15 gallon breast milk donation
When a baby is born premature, parents often feel helpless. They're sometimes unable to hold or touch their child. They face weeks or even months of time spent in the NICU waiting to take their baby home, which is beyond frustrating and scary.
One mom decided to do all she could for her premature son by pumping breast milk, thinking she would at least feed him. In the end, she pumped a whole lot more than she thought possible.
Texas mom Mikah Duncan had her son Cash after a complicated pregnancy that included surgery meant to help her stay pregnant long enough for Cash to grow more. It wasn't to be, and he was born at 24 weeks gestation. According to ABC News, the infant was taken to the NICU at The Children's Hospital of San Antonio where he faced a long stay.
After being told that pumping milk was something she could do for her son, Duncan set to work. "I couldn't touch him, I couldn't hold him. So I decided I was going to pump my heart out. It was all I could do."
And pump her heart out she did. At first, she only got enough to fill a syringe but as her supply increased, it became a few ounces. And then, six ounces. With the hospital nurses cheering her on, Duncan kept to a schedule of pumping milk every two hours, around the clock.
After a NICU nurse told Duncan she had plenty of milk at the hospital for her son, she started building up a stash at home too. The new mom says it soon became apparent that she had pumped more milk than her son would be able to eat, so she decided to donate some.
The idea for donating came after Duncan recalled a form she had signed when Cash was first born allowing him to receive donor breast milk. She says, "I was just hoping I'd have 100 ounces," which is the minimum amount to donate milk to the NICU.
She ended up parting with a whole lot more than that, setting a record for the hospital with her 15 gallon breast milk donation.
Before it had a chance to start thawing, Duncan had her photo taken in front of the unbelievable stash she had pumped. It was posted to the hospital's Facebook page where the new mom received plenty of supportive comments. Any mother who's ever pumped will appreciate what this photo means: a whole lot of freaking hours tied to a breast pump.
If you've had a baby in the NICU, you probably have an idea of how Duncan felt. Unable to mother him in the way she'd imagined, she did all she could to help her son grow healthier. It was that struggle that motivated her to lend a hand to other babies in her son's position. What she did is a beautiful gift that she knows will nourish another infant like Cash to grow and thrive while staying at the NICU.
Now that her son is healthy and home with his parents, Duncan says, "It feels amazing. Just to help in some small way."
We're positive the parents on the receiving end of her generous donation are thankful for it.