Mom Responds When Son With Down Syndrome Gets Left Off Birthday Invite List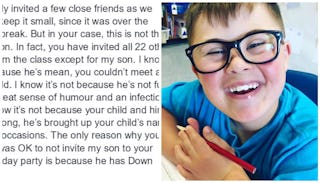 Image via Facebook
Mom writes open letter after her son with Down Syndrome was the only one not invited to a classmate's birthday party
Deciding who to invite to your child's birthday party should be a simple thing. Either include the entire class, or only a handful of close friends. One choice a parent should never allow is to include all but one child from their kid's class. And the mom of a boy with Down Syndrome nails exactly why in a viral letter to a fellow parent.
Jennifer Kiss-Engele of Vancouver, BC, used Facebook to spread a message about her eight-year-old son Sawyer not getting an invite to a classmate's birthday party while the rest of his class was included.
She opens her letter acknowledging that it's fine to not invite the whole class and that even with Sawyer's most recent party, they kept it to a few close friends. But in this case, as Kiss-Engele notes, all 22 other children from class were invited. She says, "I also understand that this was not an oversight on your part, that it was an intentional decision to not to include my son."
Kiss-Engele is referring to Sawyer having Down Syndrome.
It's difficult for the mom to believe any other factors were at play writing, "I know it's not because he's mean, you couldn't meet a happier child. I know it's not because he's not fun, he has a great sense of humor and an infectious laugh. I know it's not because your child and him don't get along, he's brought up your child's name on several occasions. The only reason why you decided it was OK to not invite my son to your child's birthday party is because he has Down Syndrome."
She goes a lot easier on this parent than others might have acknowledging that not everyone understands Down Syndrome and that if they did, maybe Sawyer wouldn't have been left off the invite list. "I am not mad at you. Rather, I think this is an opportunity for you to get to know my son better. You see, having Down Syndrome doesn't mean that you don't want to have friends. It doesn't mean that you don't have feelings. It doesn't mean you don't like to go to birthday parties."
Kiss-Engele acknowledges that this parent might have struggled to discuss with their child why it wasn't acceptable for them to leave out one classmate, particularly because of their special needs, but that this is the perfect chance to teach an important lesson. "They will remember the time that their parent said to them, it's not OK to leave someone out because of their disability, race, or gender."
She writes of how she's noticed Sawyer wasn't invited to many parties over the last year, and takes some of the blame herself for not educating his peers. "Other parents I know that have children with Down Syndrome have often started the school year by educating the class and I haven't done that. He's always just been Sawyer to me and I haven't felt the need to talk about Down Syndrome to his class until this moment. I realize now that I have let him down. I have let a year slip away where I could have done more to educate families. Perhaps then we wouldn't be in this situation."
While it's admirable of Kiss-Engele to suggest it was on her to educate her son's class about Down Syndrome, it still doesn't really excuse the fact that a grown adult allowed a child to invite all but one kid from class to their birthday party.
Luckily, the story does has a happy ending.
Kiss-Engele updated her post this morning saying, "The parent read my letter, spoke to their child about Sawyer, and the child created a special birthday invite for Sawyer. Of course he's been beaming ever since and can't stop talking about it." She also notes that she's glad her message has spread in the hopes that it "will help open that dialogue with their own child and perhaps make that one 'extra' invitation."
It's a relief that this ends well, but please parents — invite the whole class, or just a small group. No matter the reason, leaving only one child out creates heartache. As Kiss-Engele says, this is a crucial lesson we can teach our children — to show them it's never OK to leave someone out. That one "extra" invite might not seem like a big deal to you, but it could mean the world to a kid who only wants to be included.
This article was originally published on