Date Night Goals: Drunk Shopping At Target
by Valerie Williams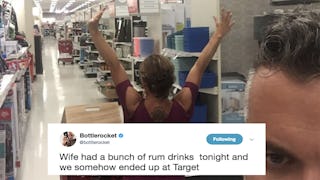 Image via Tony Serafini
She's living the dream, ya'll
If a mom were asked to describe her perfect date night, she might go into a long description of an evening that begins with fancy cocktails and ends at an even fancier hotel. But parent life being what it is, our actually achievable dream date involves two things:
Alcohol and Target.
Tony and Alyssa Serafini are the married parents of two little girls and also, both teachers. Summer is their time to shine, so the Massachusetts couple planned a recent date night complete with an overnight sitter. Yes, they scored the holy grail of parental nights out. Should they embark on a sexy evening of clubbing? Dance the night away? Spend hours tasting high-end reds at a fancy wine bar? The possibilities were endless but Alyssa knew exactly what she wanted.
First, DRANKS.
Tony, the hilarious voice behind the Facebook page Bottlerocket, tells Scary Mommy that the pair were itching to use a gift card for a local restaurant called Gibbet Hill Grill. "They have this drink called "10 Years Rum Punch" that comes in its own little bottle," he explains.
Pure bliss, right here. Why are drinks that come in their own teeny bottles so friggin' good? We don't know, but they are. Science.
"My wife got two of them and then wouldn't stop talking about back to school shopping at Target, but I didn't want to do that because it's still July," Tony laments.
Well yeah, what teacher wants to think about going back to school when they're only halfway through their much-needed summer break? A buzzed and ambitious Mrs. Serafini, that's who.
Ever the accommodating husband, Tony went along with his wife's rum-laden wishes. "We ended up at Target, and walked around shopping and taking pictures, like teenagers."
Except teenagers wouldn't look this perfectly at home hiding in a shelf at Target. Moms, hands in the air if you've ever been tempted to do this during an exhausting Target run with your wily toddlers?
Anyone else hear George Michael's "Freedom" all of a sudden? This woman gives no shits about anything right now except her toasty-warm rum buzz and the open, inviting aisles of Target — child-free, yo.
Tony tweeted the images from their wild night out where they quickly went viral, because this is literally every mom's dream.
Twitter is loving the couple's date night activities with many calling them "goals." We couldn't possibly agree more.
In the end, Alyssa walked out smiling, arms loaded with goodies.
Tony was left a bit dazed but hey, happy wife, happy life, bro.
The moral of the story? When it comes to big date nights, keep it simple, husbands. We don't need much. Just let us wander Target in the glow of a solid cocktail buzz. And don't make faces when we buy yet another throw pillow we don't need.
Because we do need this, guys. You don't even know how much.
This article was originally published on