Mom Expects The Worst, Ends Up Thanking Skateboarding Teen In Viral Note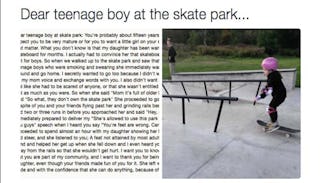 Image via Twitter
A mom's message to a teenage boy who helped her daughter at the skate park has gone viral, and with good reason. In a time where we read so many stories of bullying and teenagers behaving badly, this letter reminds us that some teens are doing the right thing and deserve to be recognized for it.
When Jeanean Thomas arrived at a local skate park with her little girl, she was ready for the potential issues. As predicted, she immediately noticed it was overrun by teenage boys, "smoking and swearing," and her little girl expressed doubts of whether she should be there. Thomas quickly realized her concerns were unfounded, thanks to the actions of one very special kid. Check out an excerpt from her open letter to the teen boy who turned it all around:
I secretly wanted to go too because I didn't want to have to put on my mom voice and exchange words with you. I also didn't want my daughter to feel like she had to be scared of anyone, or that she wasn't entitled to that skate park just as much as you were. So when she said, 'Mom it's full of older boys,' I calmly said, 'So what, they don't own the skate park.' She proceeded to go down the ramp in spite of you and your friends flying past her and grinding rails beside her. She only had two or three runs in before you approached her and said 'Hey, excuse me …'I immediately prepared to deliver my 'She's allowed to use this park just as much as you guys' speech when I heard you say, 'Your feet are wrong. Can I help you?'
This mom was expecting the worst. Her daughter was intimidated and ready to abandon her dream of learning to skateboard when one of the "enemy" turned out to be an amazing ally and patient teacher. Her letter goes on to tell of how this boy spent a whole hour with her daughter, which is something even an adult might not be willing to do. Patiently correcting her form and helping her learn, even though his friends teased him for it. That is no small thing for a teenager to endure. He allowed them to make fun of him, determined to do the right thing.
All parents hope to raise kids who are kind and patient toward everyone, but particularly, toward those younger or weaker than they are. We want our children to be the ones to defend their peers against bullies or to stand up for what's right. There are so many good qualities to try to nurture in our children, but kindness and empathy should be number one for all of us. We need more kids to grow up to be the way this teenage boy is — to have the ability to put his own fun aside and to focus on someone who needs his help. I can only hope to raise my children to be this way too, a positive force in the lives of others. It's what we should all strive for.
This article was originally published on