Mom Forced To Petition For Her Kindergartner To Get Daily Recess
by Maria Guido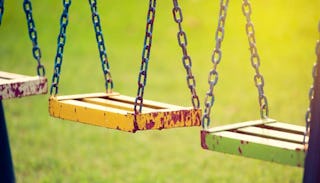 Florida mom Amanda Lipham is on a mission to get her kindergartner daily recess. Her five-year-old, Elliott, only gets recess once a week — on Fridays. What are we doing to our kids?
A few years ago her county started phasing out of daily recess, opting instead for PE classes three days a week and an optional recess the other two. "It didn't fit in everybody's schedule," Polk School Board Member Hazel Sellers said. But Lipham tells News Channel 8, "I couldn't imagine how it ever was on the table to be cut, it's just seems like a no brainer." So she started a petition to bring back the daily 20 minute break to Polk County schools — and she's received quite a bit of support. The almost 1600 signatures she's received are from parents, grandparents — and teachers. From the comments on the petition:
I am a teacher and I see the effect of no recess in the classroom!
I'm a teacher and it's insane how my county (polk) has my schedule down to the very minute!It's sad that the kids don't have time to breathe and get a few minutes to socialize outside.
I'm a teacher and I see the benefits of recess. Kids need brain breaks!
As a teacher, I see my kids needing that few minutes to just be kids.
The district released this statement:
"The School District has not directed schools to phase out recess. This is not a districtwide measure. Some schools have made reductions in providing daily recess (or what parents often consider free-play) based upon the instructional needs of their students. There are only so many hours in a day, and some administrators have reduced recess in order to provide more instructional time.
However, the District does ensure that all elementary students have a minimum of 150 minutes a week of physical education. This is a state requirement. Some schools have more. In addition, we provide our teachers with professional development in ways to integrate physical activity and exercise in their lessons to keep students active throughout the day. We encourage our teachers to use these instructional strategies that incorporate play as a form of learning."
A structured physical education class doesn't replace the time that the kids get to run free, without some sort of task or agenda. On the one hand we lament the loss of physical exercise for children and berate parents for allowing a more sedentary lifestyle, on the other hand we take away the little time they have to run around and have some fun. We can't have it both ways.
Kids need a break. As adults, we're working more and more hours with less time for leisure, and it seems like this all-work-no-play mentality is seeping into our educational system, too. We're teaching kids from an early age that their independence is not valued — and that's not a great lesson. Not to mention the fact that we're not giving teachers the much needed breaks they deserve, too.
If 20 minutes of recess somehow makes our educational system ineffective, we need to come up with a solution. But stealing the little time our kids get a day to decompress doesn't seem like quite the right one — especially if teachers are agreeing it's not.
This article was originally published on