Mom's Facebook Post Reminds Others To Treat Her Teen Son With Kindness
by Christine Organ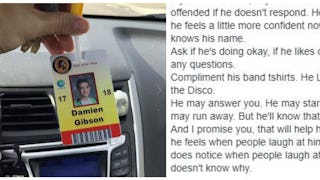 Image via Facebook/Cara Thulin
Her Facebook post is easing her son's transition into high school
Like most parents, Missouri mom Cara Thulin was nervous about sending her son to high school as a new freshman this year, but her concerns went beyond the typical mom jitters. Because her son Damien "Zeke" Gibson has an autism spectrum disorder (ASD) she was worried about how other students and the staff would treat him. So she turned to Facebook to educate students, staff, and parents about her son and autism in the hopes that it would help him fit in at the new school.
"This boy is in your ranks now. And I need you all to help me," Thulin wrote in a Facebook post on August 24, sharing a photo of Zeke's high school id. She went on to explain that Zeke's brain "grew up differently" than most people's brains.
"His senses are stronger than ours," she wrote. "So while we were growing and paying attention to other babies…and learning how to behave and react…he was paying attention to the way sun hit his moms earrings, or how loud the dog was…and he missed out on all that social training we didn't even realize we were getting."
Thulin told Scary Mommy she wrote the post to give the students and staff at his new school the knowledge they need to understand Zeke. After a difficult experience in middle school, she wanted to get off on the right foot in high school. Given that Zeke would be going to a school three times the size of his middle school, she was afraid he would be faced with the same problems on an even bigger scale.
"I can't walk around with a sign that says 'This is Zeke, he can be a little weird. Please, be gentle with him,'" she told the Springfield News-Leader. "I figure if they understand, they will be easier on him."
It's hard, she said, for parents of children with invisible special needs — or any special needs, for that matter — to get their child on a level playing field with the rest of their classmates.
"I worry about him being shown patience, understanding, and given a fair chance," she told us. "It seems so simple, but when so few people truly understand that autism doesn't always look like Dustin Hoffman in 'Rainman,' it's nearly impossible for them to know how to teach someone on the spectrum."
Thulin said she worries her son's mannerisms and behaviors might seem disrespectful, non-compliant, or non-responsive to teachers and classmates. Hoping to make the transition easier for her son, she gave staff and students several suggestions on how to interact with her son. Say "Hi Zeke!" if you see him, she said. She suggested asking him how he's doing and whether he likes his classes, or to compliment his band t-shirts (Panic! At the Disco is a favorite). She also reminded people that because he has ASD, Zeke's responses may be different. He might not answer or he might stare at the floor, she wrote.
"But he'll know that you care," Thulin wrote. "I promise you, that will help him feel better than he feels when people laugh at him. Because he does notice when people laugh at him. He just doesn't know why."
Thulin ended her post calling on parents to join her on this parenting journey. "I am raising a very VERY strong kid," she said. "Please do me a favor and raise very kind kids in return."
Thulin's post obviously struck a chord with other parents. To date, the post has been shared more than 2,000 times and she's receiving positive messages from people all over the world. She wants to spread the message of understanding and knowledge about what it means to have ASD.
Zeke is starting his third week of high school and is excited to go each morning. His teachers have been helpful and well-matched to his needs; they legitimately want him to succeed. She's found warmth, kindness, and an outpouring of supportive people who aren't just accepting of Zeke, but excited to be part of his life.
"There is such a huge growth in the number of kids on the autism spectrum," she said "We can't keep asking them to change and work around us. We need to change and work around them. Because they are incredible people, and they deserve every single chance in the world."
This article was originally published on