This Mom Losing Her F*cking Mind Over Beyoncé At Coachella Is All Of Us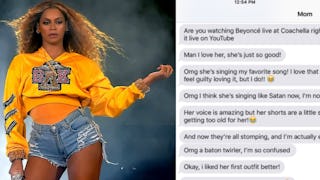 Image via Kevin Winter/Getty Images/Twitter/Natalie Parker
Beyoncé's Coachella set was so fire this mom almost called 911
Here's a little snapshot of my house on Sunday night: I got home from a late dinner a little tipsy from a few bottles of Sauv Blanc shared with friends. I saw Beyoncé's entire Coachella set was on YouTube. I watched. I squealed and danced and shouted "YAS KWEEN" more than a few times, because hello, have you seen that set? It was fire. Pure fire. And no one dared put it out.
I wasn't the only one who thought so. Coachella will basically be referred to as Beychella moving forward. That's just how good her historic set was. It was iconic. It set the bar for every Coachella performance ever to follow it. A lot of people appropriately clutched their pearls when they saw it, but no one clutched 'em as hard as one mom/Beyhive member who live-texted all of her reactions to her daughter. It's hilarious, because her insanely extra narration is basically everyone who's seen the show or video.
Natalie Parker woke up Sunday morning to a long string of texts from her mom, who typed out every thought she had watching Bey perform and sent them all for Parker's enjoyment. And because there was too much enjoyment for just one person, Parker tweeted the entire text string where it quickly went viral.
First, we see the glorious moment that Momma Parker discovers Beyoncé's show is available to watch on YouTube. She live texts the first few songs, peppered with the most mom-ish commentary like, "She has a lot of naughty moves that make me uncomfortable lol" and "I hope she beat up Jay Z!"
She then gets toward the end of the show, where things really take off. Jay-Z joins Bey on stage. Then Destiny's Child reunites to sing "Say My Name." Then Solange joins Bey for a dance number. Honestly, I'm getting chills right now remembering it. And Momma Parker was getting all those same chills watching it live (even if she really hated Beyoncé's final outfit of the night).
This is where the commentary gets even more hilarious. Even after the show's over, Momma Parker just can't stop thinking about it. She's in a downright tizzy.
"Omg I can't settle down, I'm still thinking about Beyoncé," she writes. "She rocked my world tonight even though I'm an old hag!"
Same, Momma Parker. Same.
Things continue to escalate as Momma Parker turns to over-the-counter pharmaceuticals to try to calm her Bey fever enough to go to bed, and writes an actual novel of more commentary about the show, including the part where another member of the household comes home, sees her face, thinks maybe someone died, and then finds out she's just hella shook because of Beyoncé. She truly is all of us.
Obviously, Twitter lost it over this mom's next-level love for Queen Bey.
There's also an online push to get Momma Parker to one of Bey + Jay's upcoming On The Run II tour shows. Obviously this has to happen.
Parker responded to people's tweets with some of the backstory, like how she's responsible for turning her mom into the biggest Beyoncé stan the internet's ever seen.
And how Momma Parker is really here for that concert ticket idea, because she wants to go all mom on the actual Beyoncé.
https://twitter.com/jetpack/status/985938159723827200
And how those texts weren't even the end of the commentary.
https://twitter.com/jetpack/status/985939764502200321
Anyway, here's the moral of this story: If you haven't seen Beyoncé's Coachella set, be more like Momma Parker and get on that. It'll be the best hour and 40 minutes of your life.