Mom Begs People To Wear Masks After 12-Year-Old Daughter Dies Of COVID-19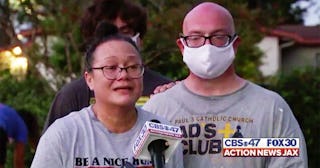 RyanANJax/Twitter
Elizabeth McNew's family hopes people will wear masks after the 12-year-old died from COVID-19
A Florida family is mourning the loss of 12-year-old Elizabeth McNew, who died from COVID-19 after being hospitalized for 10 days. Her mother, Elda, is begging people to take the virus seriously and wear masks when going out to protect other people from contracting the virus.
"If you kept one germ droplet from just accidentally getting on another person, you have been a hero, and all it took was an annoying little mask," Elda McNew told TODAY. "I would like people to think of the Golden Rule: 'Do unto others as you would have them do unto you.' Because we need to find some love and compassion for each other."
The McNews say they were taking precautions to protect themselves from the virus — they wore masks, they kept up with hand hygiene, and the two children, Elizabeth and her older brother Liam, attended school virtually to stay safe.
Brad McNew, Elizabeth's dad, would even sanitize his shoes, remove his clothes, and immediately take a shower when coming home from his law enforcement job every day. He eventually became symptomatic and received a positive COVID test. Elizabeth became ill shortly after.
"Even though my husband tested positive, his symptoms were very mild to moderate," McNew said. "It became very clear that Elizabeth was not just having allergies … She came and said, 'I can't breathe exactly good.'"
Elizabeth was admitted to Wolfson Children's Hospital in Atlantic Beach, and remained there for 10 days. Her mother was able to stay by her side as she did not present with a fever or test positive for the virus. Elizabeth had a tracheostomy and received medications to manage her symptoms and pain. Her mom says she could answer "yes and no" questions but that sometimes, communicating was overwhelming for her.
"I wanted to tell her how many people loved her and that Daddy's praying and (her) brother's praying," McNew explained. "She would start crying … So I just began touching her and saying, 'I'm here.'"
Elizabeth's symptoms grew worse, as did the infection. She died on Sept. 25 from complications of the virus. Her mother expressed gratitude to the staff at the children's hospital for doing all they could to save her daughter. She hopes people will remember Elizabeth for her kind nature and creative spirit. "She had friends everywhere," McNew said. "She didn't care if you were just born or 100 years old. She would stop and talk to you and give you a hug or help you."
There is a GoFundMe set up for the McNew family to help them through this devastating loss. "Elizabeth fought bravely for almost two weeks and the family's medical bills will be outstanding," the fundraiser states. "Please consider donating any amount to help this sweet family with their financial burdens, to include funeral expenses, medical bills, time lost from work, mortgage payments, and any unexpected living expenses during this overwhelming time of grief."
Elda hopes their tragic story reinforces the need to take the pandemic seriously and try and protect others by wearing masks.
"We all need to think about each other," she said, per TODAY. "Masks are uncomfortable and they're annoying, and here in Florida, they fog up your glasses. I know it is hard. But it's harder to plan a funeral. It's harder to watch your daughter struggle for breath for 10 days."