Mom Shares Heartbreaking Message About Addiction After Losing Her Son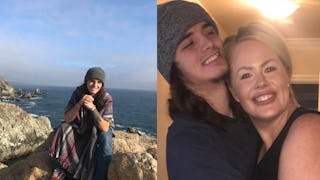 Image via Amanda Poole Krueger
This mom won't let the stigma surrounding heroin addiction stop her from spreading awareness after the loss of her 19-year-old son
We've all read the obituaries that tiptoe around the issues of drug addiction and overdose: young people passing away "in their sleep" or leaving us "suddenly," with no explanation about what happened to them or why they're gone far too soon. As opioid use skyrockets across the country, these vague articles are, sadly, more and more common.
But just days after losing her 19-year-old son Giancarlo to a drug overdose, Amanda Poole Krueger wanted the world to know that he died after battling a heroin addiction – and that the stigma surrounding addiction and drug use is part of what's killing our kids.
She sent her message through Frank Somerville, a journalist and evening news anchor for KTVU in Oakland, California.
"Kids are DYING and people are too afraid to be honest even in obituaries because of the social stigma," she wrote. "How can I go on Craigslist right now and search for black roofing tar and find heroin for sale? And clear sealant? That means meth. How do I know this and the police don't? Why isn't this a weekly segment on the news?"
"I'm so proud of Amanda for being willing to speak bluntly about her son's death," Somerville told Scary Mommy. "What happened to her son can happen to anyone, and people need to know that. I can't even begin to imagine what Amanda and her family are going through right now. But I do know this: their son's death has now touched a lot of people. And maybe that will help another family going through the same thing."
The post, which has been shared over 58,000 times, includes pictures Krueger and her son smiling and embracing, as well as pictures of him interacting with his six-year-old brother Clyde.
Krueger goes on to tell her son's story from the beginning:
"My son had been clean for 10 months and working for the County of Marin," she wrote. "He had his own apartment. We found out he was using on July 24 2017. We sent him to a rehab that cost $45,000 for 45 days. Then we sent him to intensive out patient rehab for another 3 months and then a sober living house in Mill Valley for a year."
Then she continues bluntly:
"He relapsed and died alone in his bed. He was the most gentle soul."
Krueger shares how difficult it was for her husband to tell Clyde that his big brother had died because of "an invisible disease," and how difficult the coming Christmas would be. She also shared what it felt like to lose her son.
"The only way I can explain this pain is that every cell in my body that created my son is on fire yearning to hold him again," she wrote. "It's a physical pain I feel only a mother would know. It's in my bone marrow. Just a deep yearning to touch him and hold him."
"I don't know what the solution is but we have to open the conversation in a big way," she concluded. "Please use my son's story. Please help me warn parents that this is out there. Even in Napa. Please help me help other families. Please, please, please. It's all I can do now."
What does Kreuger want people to know that she wished she knew?
"I want other parents to know that there's a tidal wave coming. This fentanyl that's coming to our towns, and these kids aren't just being offered marijuana at school, they're being offered pills," she told Scary Mommy. "Parents have to talk to their kids about pills, it's an opioid crisis. You hear it so much, but it is a crisis. It's coming. And it could be anyone and anywhere. And there are so many people so addicted that they're selling to kids."
She also wants everyone to know that her child showed few signs of addiction.
"My son was a nature lover," she said. "He wasn't some kid who was ever in trouble. He never stole from us, he's never spoken to me in a mean way. He was not a living on the streets heroin addict. He got a bridge toll ticket once. And I look back at my parenting and I wouldn't have changed much. It's just that these days its so normalized, and our teenagers are under such pressure – at school, and on social media – you do something once and you feel that reprieve and relief."
In the comments to the post, Somervile said, "[I]'m guessing there are a lot of people who have been affected in some way by addiction.. im wondering if you could do me a favor.. could you share your story and anything you may have learned from it.. whether it was something you did right.. something you did wrong.. or something you just did not know.. i think that might help educate some of the people reading this post.."
Over 7,400 people responded, giving support, telling their stories, or asking for understanding.
Krueger, who will bury her son on January 7, wants people to talk more openly about addiction, and share her son's story so that his life was not lost in vein.
"Share these heartbreaking stories," she said. "I don't want this to be just viral and die out. He had such a beautiful face. He looked like an angel. There are so many people who have posted obituaries saying, 'he died of unexpected heart problems,' but everyone in town knows they died of an overdose. I've got 800+ messages from moms who have lost kids from overdoses– so many they won't even load. I'm a good mom, I've always been a good mom. Everyone needs to know: it doesn't discriminate."