I've Put A Moratorium On Playdates — It's Time For Mom To Carve Out Some Time For Herself Instead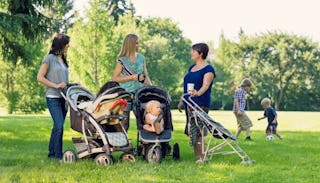 Tyler Olson / Shutterstock
Goldfish and apple juice boxes lined the kitchen countertop along with hummus, pretzels, and mimosas. In the living room, throngs of toddlers tantrumed over whose turn it was on the creaky mechanical pony as infants cried in makeshift cribs. After spending most days isolated and alone with my baby, I felt as if I had entered a surreal world. Though the scene was chaos, as a new mama, I welcomed the drama.
The minute I embarked on the magical but mysterious road of motherhood, I knew I was going to need a support system. I wanted a loving and encouraging network, but didn't have the faintest idea of where to find it.
Then, one afternoon, I brought my then-3-month-old daughter, Abby to story time at the library. We sat in a semicircle with the other parents and their children and listened to the librarian's soothing voice as she read from board books. Then an infant crawled into my lap. As the baby's mother scooped her little one up, she spoke to me:
"I'm having a few moms over to my house. Would you like to join our playdate?" she asked, a sweet smile on her face.
"Sure, we would love to."
We walked into our new friend's house and were met with a whole lot of disarray as diaper bags and purses crowded the entryway. There were probably 10 other moms there with their babies ranging from newborns to toddlers.
We sipped our mimosas, watched our kids crawl around the toy-packed room, and chatted about pregnancy, told our birth stories, relayed our in-law dramas, and mused on the machinations of sex after babies.
I had finally found my mommy tribe.
Each week, more moms joined our group until it included about 25 moms and their babies. The playdates became a lifeline to a community I never imagined being a part of but now couldn't live without. Between coffee dates, shopping dates, library story time dates, house and park dates, we played, ate, and commiserated together every day of the week.
As the months passed and Abby got closer to celebrating her 1st birthday, I was celebrating becoming more confident as a mother. There was just one problem: I was growing exhausted trying to keep up with our mom/baby social calendar. When the weekends arrived, my husband would want to go out with me and Abby, and all I wanted to do was sleep, hang out at home in my pajamas, and work on my writing.
"I've been to that park five times this week. I don't want to go again," I complained to my husband when Abby and I received yet another playdate invitation from the group.
That's the moment I knew that as much as I loved being around my mommy tribe, I was ready to rediscover what I wanted to do — and that meant something that wasn't connected to my identity as a wife or mother. I was itching to start writing again and see where it would take me. As a stay-at-home mom, I had a major advantage over other working parents: the flexibility of my schedule.
I started saying "no" to playdates and "yes" to carving out time for myself. My weeks took on a different dimension when we weren't constantly rushing around. Lots of times, we'd stay at home, and Abby would play around me while I multitasked on my laptop, outlining essays and drafting poetry.
I loved expressing my creativity and stopped wishing for a crowd to lose myself in. I also became more present for my husband, and my writing fulfilled my need to be productive instead of just being "Mommy."
These days, while I may not be able to sip on a mimosa in the middle of the afternoon with my posse, and I may skip more than just a couple of playdates a month, there is a gift in my decision that Abby may not see until she's older: Her mommy had the chance to balance play and work and follow her dreams — and she did it.
And if I did it, then maybe she can do it, too, one day.
That's what's most important.