'Have That Melt Down': Mom's Honest Post About Anxiety Is One We All Need To Read
by Valerie Williams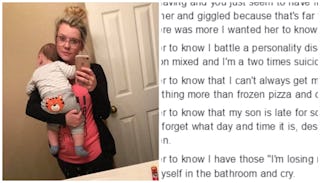 Image via Facebook
She reminds us things aren't always as they seem
A woman's Facebook post about parenting with depression and anxiety is going viral, because it's as relatable as it gets. So many moms maintain an outward appearance of things being fine, when the truth is, they're anything but.
And that's nothing to be ashamed of.
Cierra Lyn Fortner, of Kansas City, Missouri, is mom to two boys, ages four and nearly one. She posted a story on Facebook of an encounter with a Walmart cashier that left her wanting to share some truths about her life as a mother dealing with depression and anxiety. It's since been shared nearly 90,000 times, because obviously, Fortner's not alone in her struggle.
Fortner writes, "Today I was at Walmart doing my weekly Friday shopping when the cashier says to me "I see you in here all the time, your kids are always dressed cute, behaving and you just seem to have it all together" at the time I just thanked her and giggled because that's far from the truth, but as I drove home, there was more I wanted her to know about me."
The mom then shares aspects of her life that aren't visible during a casual encounter, such as the fact that she's battling a personality disorder, anxiety and depression.
She's also a two-time suicide survivor.
While her outward appearance is that of a put-together mom with happy kids, the truth is, Fortner works very hard just to get through each day. She explains that she often has trouble getting off the couch, and as a result, feeds her kids "frozen pizza and cereal."
She admits that her mental health issues mean she's sometimes too foggy to know what day and time it is, resulting in her son being late to preschool more often than not. Fortner also cops to losing her shit and locking herself in the bathroom to cry, and not always washing her hair or bathing her kids regularly.
Which, who hasn't been there?
Then, this brave mom brings it home. "But most importantly I want her to know I don't have it together and may never have it all together. I don't know a mother out there that has it all together but everything we do is done with love for our children and that right there makes you the perfect mom and in our children's eyes we most definitely have it all together."
Mental health struggles only compound the daily shitshow that is parenthood. None of us have our acts completely together, though it can be easy to maintain that illusion for brief periods of time. We're all guilty of noticing (and possibly resenting) that mom at school drop-off who always looks amazing and never seems to lose her temper with her kids, but Fortner's post reminds us that we're only seeing a very small snippet. That mom might be having a hard time with any number of things, and her veneer of perfection could be just that.
Fortner wraps up saying, "From one exhausted mom to another, you're doing great, have that melt down, let your kids eat the crap out of that cereal and take care of yourself always."
Nailed it. Kudos to this mom for keeping it real and making us all feel more "normal" in the process.
This article was originally published on