Mom Nails Poses Of Famous Works Of Art – And It's Hilarious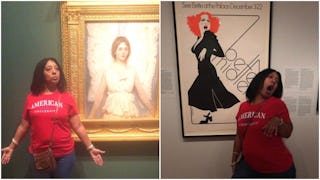 Image via Angelique Fullwood
A mom posed next to famous works of art, and it's the best thing you'll see today
Are you ready for your weekend dose of pure delightful comedy? A mom replicated multiple statue and painting poses in a museum and it's pretty much the best thing on the internet today. Bonus points for the fact that she nailed every single facial expression.
It all started when journalist Angelique Fullwood went on a cultural field trip with her mom Angela. "So my parents came to help me move to DC and I took them to the Smithsonian Art museum," Fullwood tweeted. "My mom decided it was her time to shine."
And shine she did. Fullwood was an angel.
A little boy.
The Statue of Liberty.
The Oscars.
And Beyoncé.
She also did some graceful kneeling, pensive thinking, and dramatic yawning. Oh, and she blew a kiss to Barack Obama, because natch.
Thankfully, Angelique shot a few videos of Angela in action, which are just as delightful as you might imagine.
That knee pose took some serious dedication, and we're forever grateful that she pushed through.
The internet could not get enough of Angela's creative posing. The picture thread has since been liked by more than 1,000 people, retweeted 7,100 times, and received hundreds of comments. Mostly people just wanted to tell Angelique how cool her mom is.
One person jumped in and suggested that Angela bring her talents across the country with sort of traveling/statue posing tour. Others immediately concurred.
A few people shared their own pictures of themselves posing with art, which were equally amazing. Side note: I have zero snapshots of myself pretending to be a statue and clearly have been doing this whole museum thing very wrong.
https://twitter.com/jetpack/status/1028659208328282113
Meanwhile, Angela is feeling a little flabbergasted over her newfound internet fame.
"My mom is like 'wow I can't believe I'm trending,'" Angelique tweeted later. "But she just found out what that meant like two hours ago lol."