Are These The Best Kindergarten Pics, Ever? Yes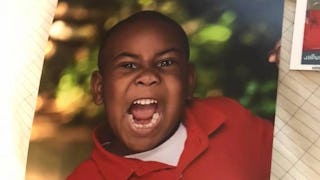 Image via Stronajai Miles
What would you do if your five-year-old brought home school pictures that were mid-scream?
When Stronajai Miles pulled her son's school portraits out of his bag, she was not expecting this.
The mom of a Macon, Georgia, Kindergartener was looking forward to seeing a traditional pose, and a bright smile, but instead found her son, dressed up in a crisp red button-down, screaming his face off for the camera.
She took to Facebook, to let off some steam at the portrait company, Life Touch.
"I'm so mad right now! I checked my sons book bag and find these!!!!"
OMG.
But her anger quickly subsided as the pictures went viral and she realized how much joy her son was bringing to the world. As of this morning, they have been shared over 41,000 times and liked 26,000 times.
"The response was very warming," Miles told Scary Mommy. "A lot of parents stated they understood where I was coming from and they understood my frustrations. It was like a big family getting together- some shared pictures of their kids crazy pictures it was so fun and so positive!"
She was also way less angry when she found out that school pictures aren't necessarily as traditional as they used to be: she hadn't known that photographers now let kids be themselves and express themselves more than in the past – it wasn't as if they weren't doing their job when they snapped the now-iconic picture of her son.
"The way I grew up, school photos were a big thing," Miles told TODAY. "You don't do anything silly, and if we did we would get in trouble."
She also posted a follow-up on her Facebook page, explaining her range of emotions (which really, any mom and any parent can deeply, deeply identify with).
"Firstly," it began, "We have decided to purchase the photos… knowing that his silly picture brought joy all over the world, how can I continue to be flustered?"
She also beamed about her son.
"Andrew has always been a silly kid with a HUGE personality! He has taken traditional professional pictures in a school setting in the past that were wonderful. That is the reason this really threw this mom for a loop," she explained. "I love my son. All the positive comments really warmed my heart. They opened my eyes to see that everything doesn't need to be cookie cutter. Being yourself is even more amazing! Drew sends his love and says thanks again for the love!"
It also seems obvious from other posts about Drew that these pictures aren't the first time he's let his personality shine. He and his mom shared a short video from the kindergartener.
Although his mom is buying the now-famous photos – and loves them — she was also contacted by Lifetouch School Photography, who explained their policy about free-spirited kids, but who also offered free retakes.
"Lifetouch has agreed to do retakes so stay tuned for those pictures lol," Miles tells us.
We will so stay tuned for more Drew faces.
And now the little guy can join the ranks of other kids who have become internet famous for their school portraits. Welcome to the funny school picture viral internet club, Drew!
This article was originally published on