Mom Runs 6-Minute Mile While 9 Months Pregnant
by Leah Groth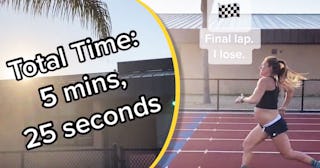 mikemyler/TikTok
A video of expectant mother Makenna Myler, nine months pregnant with her first child, running a mile in under six minutes has gone viral
Last week Mike Myler, 29, shared an unbelievable video of his wife, Makenna, 28, running a mile in under six minutes. This would be a feat for any human, however, Makenna happens to be nine months pregnant with her first child. Instead of congratulating the athlete and celebrating her victory, people with no medical credentials attached to their names who don't personally know the mom-to-be opted to question her judgement and become armchair doctors instead. Because of course they did.
Myler, of Heber, Utah, ran a 5:25 mile, and her adoring husband chose to post it on TikTok last week to celebrate his wife's bad-assery. So far it has been viewed over 3.4 million times.
"A Mile at 9 Months Pregnant," Myler captioned the video of Makenna running laps around a track, her pregnant belly on full view.
"It's a big belly," the dad-to-be commented as his wife completed the first lap. He proceeded to cheer her on. "Let's go kiddo, nice and smooth," he says to her after completing her second lap. He then explains that he bet his wife $100 that she couldn't finish within eight minutes. And guess what? He lost.
But as usual, the internet had some thoughts. However, none of those people are Makenna's doctor and, according to Makenna, she had gotten the go-ahead to keep running. "Both doctors I've worked with have been more than happy, and even encouraging with my regimen," she told TODAY.
https://twitter.com/jetpack/status/1317890507431968769
Thankfully, a good number of people were simply blown away by her athleticism. Especially women who have been pregnant, because let's be honest, most of us can barely walk at the nine-month mark.
Makenna revealed to TODAY that she and her husband had made the eight-minute bet earlier in her pregnancy.
"Neither of us had any idea what to expect during a pregnancy," she explained. "We've always heard I'd just kind of shut down as I got further in. In month two, Mike was convinced running an 8-minute mile in my ninth month was a pipe dream, so when I bet him I'd run a 7-min mile, he put $100 dollars down, and gave me an extra minute."
While her family wasn't shocked that she won, "I think they were more impressed by the TikTok views," she revealed. "However, I think the mile put the entirety of my training into perspective for people close to me. I hope it inspires women, just as I was inspired by other pregnant athletes, to pursue goals in spite of what the status quo says we ought to pursue."