Mom Sees Divine Message In Son's Diaper, Internet Throws Its Hands Up And Says 'I'm Done'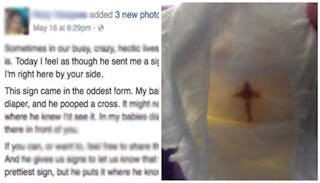 Some people see Jesus in burnt toast, some see him in their son's dirty diaper
A Florida mom uploaded a very inspiring message to Facebook this week: God is everywhere. Literally everywhere. Places he probably doesn't even want to go. Places none of us want to go. In images none of us really want to see.
Posting images of your kid's poop on social media is a no-no. We're all clear about that, right? But how can you really hold back from showing the world your kid's dirty diaper, when there is a holy message in it? You can't just keep that to yourself, can you? Of course not.
So when this mom felt like she was getting a message from Jesus himself in her son's Pamper — she had to share. If you look in your child's diaper and there is a poop stain in the image of the holy crucifix, you take pictures. And you put those pictures right on Facebook. How can you not?
"I went to change his diaper, and he pooped a cross… Hard to miss what's right in front of you," she wrote.
All things are possible — specifically that you can get a divine message in your baby's diaper:
Here are a few close ups, because why not? Let's commit ourselves to this:
Now this is a Rorschach test to end all Rorschach tests. I see a shark, maybe a shuttle launch. Frankly, had I seen this when I was changing my child's diaper, the first thing that would have gone through my mind would have been — Dammit! It's just a shart. I hate wasting a whole diaper on one of these. But clearly I lack insight, faith, and the eagle eye necessary to receive this type of spiritual intervention.
Oh, well.
This article was originally published on