Mom Fulfills Dying Wish By Seeing Her Son Graduate From High School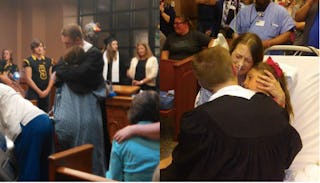 Image via Julie Northcutt
Son Dalton moved up his graduation date so his mom would be able to participate
As a parent, there are many events you don't want to miss: your child's first steps, first word, holidays, birthdays, and of course, the day they graduate from high school. For one Tennessee mom who had a terminal illness, this seemed like a long shot. Since she was too ill to attend the actual ceremony, school staff along with close family and friends stepped up in a big way to bring her son's graduation ceremony to her instead.
Stephanie Northcott of Memphis, Tennessee suffered from a rare syndrome called Lynch Disease, a type of inherited cancer syndrome associated with a genetic predisposition to different cancer types. She was admitted to Baptist East Hospital in late April, knowing her condition was terminal. Her son, Dalton Jackson, was set to graduate from high school on May 18, but was concerned she may not make it to the day. And so, he decided to have his graduation ceremony a little early — just for her.
Northcott was wheeled from her hospital room last week and into the chapel of Baptist Memorial Hospital East in Memphis, Tennessee. Close friend Julie Northcott, who is married to Stephanie's ex-husband, shared the heartbreaking video showing Dalton and several classmates walk in their ceremony and receive their diplomas.
Dalton and his friends walked to "Pomp and Circumstance" and Stephanie can be heard in the video saying, "My baby's graduating." Once the ceremony was finished, family and friends watched as mom and son were able to have a sweet dance together to the Rascal Flatts song "I Won't Let Go."
Judging by photos, there wasn't a dry eye in the house.
Also with Dalton was Stephanie's granddaughter Maddyson. Maddyson's mom Amber, Stephanie's other child, passed away from the rare disease in 2012.
"Watching her son graduate and taking her granddaughter Maddyson to Disney World was all she talked about for two years," Julie tells Scary Mommy. "I knew once they told us she didn't have but a week left that we had to get the graduation done. Myself along with Madison Mires, a high school senior and Dalton's friend, coordinated with the high school and hospital to get it taken care of. She didn't get to do the Disney World trip but the graduation was something feasible I could do for her."
Stephanie unfortunately passed away over the weekend, ending her long suffering, but not before those who loved her most were able to give her this final wish. "You can do anything you ever put your mind to," Stephanie said in the video before Dalton received his diploma. "Don't ever forget that."
If you are able to consider donating, you can do so here. The link is set up through Pay Pal to go direct to Stephanie's bank account to help pay for funeral expenses. Those interested can also send checks payable to Julie Northcott and Amanda Goodman for the Stephanie Northcott donation fund and directly to the Bank of Ripley.
This article was originally published on