Mom Shot And Killed In Front Of Her Kids In Road Rage Incident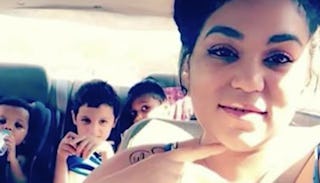 Image via WXII Channel 12
Mother of three Carolyn Tiger was shot and killed in random act of violence after a minor car wreck
Police are investigating and a family is in mourning after 26-year-old Carolyn Tiger was seemingly randomly shot and killed after a minor traffic accident in Greensboro, North Carolina. Police have no motive for the terrible crime, which took place while two children watched from the back seat. We need better gun control. And we need it now.
According to WXII Channel 12, Tiger was running errands for her eight-year-old son's birthday with her younger son as well as a friend's child in the back seat on Sunday afternoon, March 3. The car was involved in a minor accident, after which eye witnesses say Tiger tried to pull over.
The other car then pinned her in. A man emerged from the car, got a rifle from the trunk, shot out Tiger's tires, and then shot Tiger herself.
Terrified onlookers called 911 begging for police assistance.
"Ya'll need to hurry because he's going to kill her," one caller said.
"He shot her tires out so she (is) sitting on the side of the road. He's probably getting ready to kill her," another caller said.
Tiger was found slumped behind the driver's wheel by police near the intersection of S. Elm-Eugene Street and Patton Avenue. She was rushed to the ER, but pronounced dead shortly after her arrival at Moses Cone Hospital.
Her family is shocked at the news and seeking justice.
"She was trying to get me a present for my birthday, and some guy took out a rifle and just shot her somewhere," William, her 8-year-old son said. "If I could ever talk to this man, I would say, 'If someone ever killed your kids' mom' how would you feel? You would feel the same way. Think about your kids, would they have a mom?'"
"I just can't fathom she was took like that in broad daylight like she was nothing," Tiger's brother, Damian Haugen, told Channel 12. "She was the best sister I could ever hope for, really. She was caring, loving, always there for you."
"I just can't wrap my head around it," Tiger's mother, Teata Haugen, told the news station.
"He ain't got no heart at all," Tiger's father, Danny Haugen, told the news station.
Friends, family, co-workers, and community members held a memorial on Sunday, March 10, a week after the murder, remembering Tiger, supporting each other, and releasing balloons in her memory.
Tiger's husband is raising money for the family's three young children as well as for his late wife's funeral, while at the same time asking for justice.
"Just pray for our kids and justice for Carolyn," he wrote on Facebook.
Today police released an image of the car that they believe belongs to the perpetrator that they were able to find in a surveillance video: a newer model light blue Hyundai missing the factory hubcaps on both front tires.
Fox Channel 8 in Greensboro shared the best way to give information or tips to help solve this totally senseless act of gun violence: "Anyone with information about the incident is encouraged to call Crime Stoppers at (336) 373-1000 or text the tip to 274637 using the keyword badboyz. All calls to Crime Stoppers are completely anonymous and may result in a reward up to $2,000."