Mom's Before And After Photos Show The Reality Of 'Bouncing Back'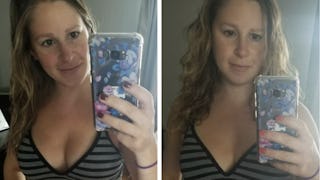 Image via Instagram
"There is no race to bounce back"
Every woman recovers from child birth at her own pace, and "bouncing back" quickly is not always the norm. A quick cruise through social media might suggest otherwise with tons of photos of moms looking amazing very shortly after giving birth. One mom wanted to share her own experience to show other women that while that might happen for some, it doesn't happen for all.
And that's totally OK.
Kristen Sullivan had her second child a month ago, a baby boy named Gavin. Already mom to a toddler son, Sullivan tells Scary Mommy she "bounced back" quickly after her first pregnancy. But her recovery from her most recent little one has gone differently. She took to Instagram to show the before and after photos.
Sullivan writes, "The left pic is 3 days before I delivered Gavin (my 2nd child), the right pic is 3 weeks postpartum. I'm sharing this to show moms that sometimes it doesn't matter if you're thin, ate right and exercised during pregnancy, sometimes your body grows in such a way that simply doesn't allow you to "bounce back" in friggen 3 weeks."
A-friggen-men.
She says, "I feel like all I've been seeing is new moms sharing their amazing postpartum bods, 11 days after birth, 2 weeks after birth, etc. And while that's wonderful for them, for many others, KNOW that it's not realistic!"
Sullivan also suspects there may be more at play than baby weight when it comes to her post-pregnancy abdominal muscles. "While I won't be totally sure till 6 weeks, I have a strong feeling that I've got #diastasisrecti (separation of the abs), in which case I'm determined to get the PT I need to heal. I've also been wearing a postpartum corset for extra support. But in the meantime, I'm giving my body a chance to breathe. Did you SEE how far my belly stretched?! There is no race to bounce back moms. We'll get there!"
Sullivan experienced what so many moms do — two pregnancies, and two totally different recoveries. She tells Scary Mommy, "I'm 35, it's my second pregnancy, and my body just grew differently," she explains. "It housed an 8 pound 9 oz baby boy in there!" She also reiterated her suspicion that due to her small frame and the way she's recovering that she may have diastastis recti and plans to see a women's health/pelvic floor specialist to repair it.
Sullivan tells us that while she understands a fast return to a pre-baby body might happen fast for some, that it's not always the case. "I'm not saying it's unrealistic to bounce back quickly, I'm saying for many other women, it may not be, and that this is normal."
Sullivan stresses that sharing the photos and her story is no indication of her own feelings about her post-baby body. "I'm not unhappy with my body currently, I'm embracing all it went through this past year, and that's part of the message I wanted to get out there."
"Don't expect results so soon… It can take quite awhile, and even if your body is never the same again, embrace it all, because it did some amazing things!"