An Overdue Thank You To My Mom On Christmas
by Jenny Albers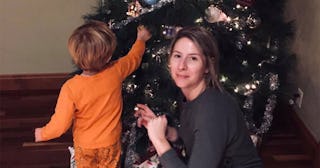 Courtesy of Jenny Albers
Dear Mom,
I'm sorry for not saying thank you for all the Christmases you gave me back when I had no idea what is was like to be a mom at Christmastime.
You spent your time, energy, and patience making the season sparkle and shine—not for you, but for your kids. And I imagine that although it took a lot of work, that's what made it shine for you—your kids. Our excitement. Anticipation. Joy. The smiles on our faces. And maybe, just maybe, it was the time spent together, too.
There might not have always been a lot of money to spend, but you always spent yourself making Christmas feel special. I didn't appreciate it then like I do now.
As I haul up boxes and totes full of ornaments, decorations, and tangled strings of lights.
As I unpack old memories from my childhood while making new ones with my own kids.
As I guide them through ornament hanging and recipe reading and giving over receiving.
As I vacuum up pine needles and arrange the nativity and hang stockings.
As I do ALL the shopping and wrapping and hiding of gifts.
As I make grocery lists, and meal plans, and put together a smorgasbord of treats.
As I sigh when the kids' Christmas lists get longer and longer, when they ask for more and more.
As I try, really try, to help them understand the true meaning of Christmas.
As I run errands and work out the details and repeatedly answer questions like "is it Christmas yet?" and "please, please, please can we open just one present early?" and "how much longer?"
As I do the things that you did, but admittedly not always with the same joy you seemed to have, I appreciate it. I appreciate YOU.
Even though I might not have said it, it all mattered so much to me, and it was more than enough.
Thank you, mom, for all the Christmases you gave me.
As I give Christmas to my own kids, I'll carry the memories and your magic with me forever.