Mom Goes Viral After Sharing Pics From Her Role In A Backstreet Boys Video
by Madison Vanderberg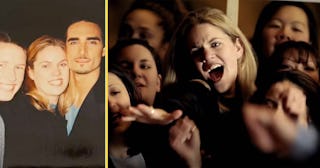 Backstreet Boys/Youtube and Devon Daniels/TikTok
A mom and author from Maryland has gone TikTok viral after sharing behind-the-scenes snaps from her appearance in a Backstreet Boys music video
The year is 1999. You love Britney Spears, wearing butterfly clips, worrying about Y2K, and your favorite song, "I Want It That Way" by the Backstreet Boys is playing on the radio. Life is good. But if you're current Maryland author and mom of four Devon Daniels, life is really, really good, because in 1999, you are 17 years old and are actually IN the "I Want It That Way" music video. After sharing behind-the-scenes clips from her time on the set of the now-iconic video, the Maryland mother of four has gone viral on TikTok.
This is Daniels, who you might remember her the video as "iconic screaming kween."
She's now 39, an author, and has four kids that apparently didn't give an eff that their mom was in a music video with the best boyband in the world, that is, until her TikTok went viral.
In a Buzzfeed interview, she says she won the chance to be in the video through a radio-call-in show. Also, remember radio call-ins? Man, the '90s had it all. However, she shared that at the time, the Backstreet Boys were a newer band and she wasn't a super-fan just yet. "They were popular but…it was just before the true explosion, so I wasn't even super familiar who the Backstreet Boys were. I knew the songs, but I didn't necessarily know the band members."
https://www.tiktok.com/@devondanielsauthor/video/6969318030224444678?referer_url=https%3A%2F%2Fwww.buzzfeednews.com%2F&referer_video_id=6969318030224444678&refer=embed&is_copy_url=1&is_from_webapp=v1
"[It was] an incredible experience! the guys were amazing & I feel so privileged to be part of pop culture history. This was 1999 – I was 17 yrs old!!" Daniels also shared in a comment on the video. Apparently Nick Carter himself even left a comment on her video too.
In a follow-up video, she said that appearing in the video was the first time she and the other fans on set had heard the song and said, "We couldn't stop singing it. We immediately knew it was going to be a massive hit."
The best part of her now-viral TikTok video is all the vintage film photos she took behind the scenes.
Look at these super-derp images of Howie Dorough, Brian Littrell, and Kevin Richardson. Truly the faces of young men who don't know they are about to be wildly famous.
"They were so nice, and we were able to go up to them and ask if they would take a picture," she told Buzzfeed.
Daniels recapped the rest of the BTS details on her TikTok, and funnily enough, her love of boybands has followed her into the 2020s, as she channeled her boyband obsession in her romantic comedy book, Meet You In the Middle. Once a fan, always a fan.