This Is Why April Fools' Pregnancy Jokes Are Never Funny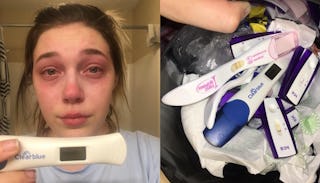 Image via Kayla Lee Welch
She explains exactly why April Fool's Day pregnancy jokes on social media are a terrible idea
Every year around this time, we're reminded of the unfortunate trend of faking a pregnancy as an April Fools' Day joke. Posting about that joke on social media only serves as a cruel punch in the gut to moms who've experienced pregnancy loss or who might be struggling to conceive. It really is the joke that's never truly funny because of how much it can hurt.
One mom shared her story of pregnancy loss days before April Fools' last year to shed some light on just how hurtful it is for those who've had a miscarriage or baby loss to see the fake pregnancy "jokes" in their feed. Kayla Lee Welch posted about her experience on Facebook, where it went viral.
"This is why your April fools joke isn't funny. This is why it's not funny to lie and joke about being pregnant. This is what it looks like to have a miscarriage."
Included with her words are photos of herself, holding a pregnancy test, clearly devastated.
She explains that she began spotting a week prior, and though she thought it might be normal since it happened with her last pregnancy, "this time it wasn't."
"I avoid laying down to go to sleep because as soon as I hit the bed I'm alone with all of my thoughts. My brain has finally stopped distracting itself from the one thing breaking my heart. And all I can do is cry," she writes. "My eyes are so swollen and dark it looks like more than just my heart is broken. Crying so hard that you go numb and feel nothing anymore."
Welch shares even more of her deeply felt grief in an effort to make others understand the terrible heaviness of losing a child you never got to meet. "Trying to be happy that your baby never knew anything other than love. And missing someone so dearly that you never even met. It's a pain no one can describe. Because how can you properly grieve someone you never got to meet?"
"Please think twice before you post that April fools joke," she pleads "Because what's funny for a second in your eyes crushes someone else's heart for eternity."
Her post totally nails it — it's simply never acceptable to joke about a pregnancy like this. If a woman wants to play this joke on her husband because that's a thing he would eventually find funny (mine definitely wouldn't) and not broadcast it on social media, that's one thing. It's when it hits the Facebook feed of that friend who just lost a baby or the other friend who's quietly struggled for years to get pregnant that it stops being funny. There's about 12 million other things we could joke about, moms — let's do a little Googling before possibly hurting someone deeply, shall we?
Happily, Welch shared in a follow-up post last week that she's now 32 weeks pregnant with a baby boy, and although she's thrilled to be expecting another little one, the pain of her previous loss will always be with her. "Every single time I've gone to the bathroom this pregnancy I brace myself for the blood. Every single damn time."
She tells Scary Mommy that her post last year definitely struck a chord with other moms. "I've had thousands of women reach out to share their stories with me," she says.
Although life is happier now with her rainbow baby on the way, Welch wants to pass on words of support for other moms who've experienced miscarriage. "Please don't stay quiet, don't mourn alone, talk to someone even if that someone is me. The pain doesn't leave but it will get better I promise mama."
This article was originally published on