What's A Babysitter? To The Moms Who Never Get A Break
by Wendy Wisner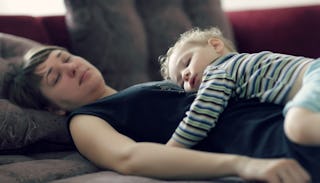 Radist / iStock
I have a confession to make. I've been a mom for almost 10 years, and I have never hired a babysitter. Really. I have never paid someone to take care of my kids.
I'm not telling you this to say that I'm a hero or better than anyone in any way — nothing like that. I have family nearby who can occasionally watch my kids if I need them to. And although I work from home, I have always done my work around my family's schedule. So I have never actually needed to hire a babysitter — and I know that is a luxury to some.
But besides all that, there never seemed like a good enough reason to dish out the extra cash, especially since decent sitters around here cost about $15 per hour. If we had any extra money, we'd spend it on swim lessons for our kids or a trip to the amusement park. And if I was going to spend it on myself, it was always something practical like underwear or yoga pants (yes, I'm that much of a loser).
But now I have another confession: I regret never having hired a babysitter. It was ridiculous for me to push my needs aside all these years and think that I didn't deserve to spend money or time on myself.
I have been the mom who never gets a break, the one who tried to convince herself that this was for the best. I have been guilted into thinking that I had no other choice, that I should save all my extra pennies for my kids. I have even thought — though I am ashamed to admit it — that I was a better mother because I never hired help, that my kids were better off being cared for solely by their parents and extended family.
I was wrong, though. All of these thoughts are based on the premise that my needs didn't have as much value as everyone else's, and that's just not true.
I see now that I really could have used more uninterrupted time to simply be a grown-up, a woman — whole afternoons to just drive around alone, not listening to children beg for goldfish or ask, "Are we there yet?" every five seconds. I needed to do the most boring things, like walk into a store and buy milk, without children tangled around my legs or crying into my ears.
There were so many days — times when the kids were sick or my husband had been working late for days on end — where I was stretched thin enough to break. I remember the feeling of performing the same task over and over again, feeling myself slowly turning into a robot, or listening to the same arguments and whines from my kids, the tears welling up in my throat, strangling me. I remember it all mounting up and feeling hopeless as though the walls were caving in. I itched to get out of the prison of my house.
My sanity as a mother was worth the money it would have cost to have someone watch my kids for a few hours. Why didn't I see that?
Yes, there were times when my budget was stretched so thin that I couldn't have afforded a babysitter with much regularity, and I understand there are lots of mothers who are in that position too. I also know how difficult it is to find good child care, someone you can fully trust to watch your kids.
But I wonder if all of those things can become possible if you make them priorities. What if you say no to any extra toys for the kids for a few weeks, or cut back on a couple of other nonessentials?
The babysitter you hire doesn't have to be Mary Poppins. You can hire the teenager from down the street or a mother's helper. You can even have the babysitter play with your kids in the other room if you are concerned about leaving. You can lock yourself into your bedroom and play Candy Crush on your phone.
Even that would be worth something huge on those days when it feels suffocating to be a mother alone in your house. Hell, maybe we moms wouldn't need to spend so much on wine and chocolate if we allocated our funds to a few hours of child care. You do the math. You might end up breaking even.
In all seriousness though — whether it's hiring a babysitter, dropping your kids off at your in-laws for the day, throwing them at your partner for a few hours on the weekend, or using the iPad as a babysitter for a few extra hours — you deserve it.
There is absolutely nothing selfish about self-care. Moms who never get breaks end up breaking inside. I know it because I've been there — too many times. What we all want is to be good parents to our kids, to show them unconditional love, to be good listeners and create memorable childhoods for them. But we can't do that if we are running on empty for days on end without sleep, help, or breaks. We just can't.
So I give you permission to ask for help, seek it out, and pay for it if at all possible. It may seem that there is no way to find the time for yourself, and you may start to doubt the necessity of doing so. But there is no reason to be a martyr.
In fact, the bravest thing you can do is take care of yourself. You are worth it, mama.
This article was originally published on