This Momsplained Video On Family-Friendly Workplaces Is Spot On
by Brandi Jeter Riley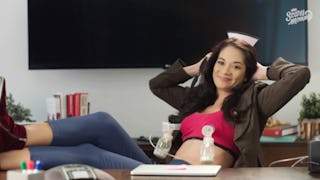 I never realized how biased the corporate world was against moms before I had my first child.
People tend to relate to other folks based on their own perspectives. If you don't have kids of your own, it can be a stretch to look at things from a mom's point of view. For example, if she leaves work early and has to stay out the next day to take care of a sick kid, it's not like she's taking a vacation. When she schedules time in her calendar to pump for a nursing child, she's not getting extra breaks. Moms work just as hard — and often harder — than anyone else in the office.
When I became a mom, I was more efficient, more able to find creative solutions to problems, and more focused than ever. I became a greater asset to the company I worked for. Employers need more moms on staff. (Because we kick ass). And employers need to understand what it means to be a working mother, and accommodate the basic requests we have to be able to take care of business–for our families, and at work.
Listen to Momsplained give it straight to employers on how to create a more family-friendly work environment.
[ss_featured_video]
This article was originally published on