A 'Monster's Inc' TV Show Is Coming -- With The Original Cast!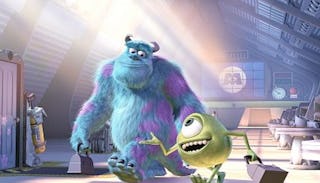 Image via IMDB/Disney/Pixar
Get ready for more Monsters Inc., in 2020 — Mike and Sulley and the gang are BACK
If you've found yourself wondering what Sulley and Mike Wazowski have been up to in Montropolis since Monster's Inc., you're in luck. The Monsters, Inc. crew is getting their own TV show next year! They'll be cooking up some hijinks and making us all laugh in a new series on Disney's upcoming streaming service.
Monsters At Work will premiere on Disney+ next year. The story will pick up six months after Monsters, Inc. — when the power plant workers realized using laughter, not scares and screams, is the best way to power their city. The new show will feature the original cast in addition to some new characters.
Mike and Sulley, best monster pals, have decided to become a monster standup comedy duo — and why not? Can you think of a better comedy team than John Goodman and Billy Crystal, who are delightfully reprising their roles?
Monsters At Work will follow Mike and Sulley, as well as Tylor Tuskmon (Superstore's Ben Feldman), "an eager and talented young mechanic on the Monsters, Inc. Facilities Team who dreams of working his way up to the factory Laugh Floor to become a Jokester alongside his idols Mike and Sulley," according to Disney's press release.
In addition to Crystal and Goodman, returning cast members from the original movies include other favorites like John Ratzenberger as Yeti and the new character, Bernard; Jennifer Tilly as Celia Mae; and Bob Peterson as Roze, twin sister to his original Monsters, Inc. character, Roz.
Another great thing about the new Disney streaming service? NO MORE VAULT. (The sound you hear is every millennial's inner child squealing with delight because we'd have to wait literal years in between VHS releases.)
That's right. The infamous Disney Vault, which "locks" up every Disney movie you currently have a hankering to see or buy, will be no more. Earlier this year, Disney announced that with the launch of its streaming service, every film that normally stays in the Vault is going online, which means kids these days will never know a world in which Disney classics aren't available at our fingertips, 24-7.
"At some point fairly soon after launch, it will house the entire Disney motion picture library," Disney CEO Bob Iger said at the company's annual meeting last month. "So the movies that… traditionally have been kept in a vault and brought out basically every few years will be on the service."
These movies include Pixar, Star Wars, and all of the Marvel films. Not only do we get to watch Mike Wazowski perform his new stand-up set, but we also get to actually enjoy every single Disney movie — old and new — without the threat of the Vault.
An official launch date hasn't been announced for Disney+ just yet, but it's scheduled to release sometime later this year. It would be very Disney-esque to release it in time for the holidays when families are home and together more than usual and ready to curl up with some of our favorites — old and new.
This article was originally published on