A Chinese Restaurant Is Going Viral For Its Extremely Honest Menu Descriptions
by Julie Scagell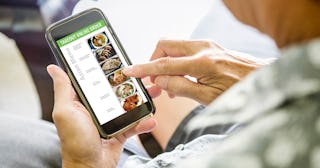 YinYang/Getty Images
"Anyway, I am not big fan of North American Chinese food and it's your call," the owner writes
Restaurants reviews are helpful because they can offer a wealth of free information, especially if they are given by actual customers and not paid reviewers or owners' families. Rarely do you expect very honest information about the quality and flavor of menu items from a restaurant owner themselves. Unless you dine at Aunt Dai.
Owners are typically famous for overselling and promising flavors that you've never experienced in any past dining experience. While some live up to the hype, oftentimes food can fall flat, which is a hit to your palate and your wallet. But one Montreal Chinese restaurant owner decided to give youths humble, extremely honest opinions of his food — and they're so funny, they've since gone viral.
The owner has been at this for years, but it wasn't until Sweet Baby CEO Kim Belair posted several screenshots from what she called her "favorite Chinese restaurant" in the city. "[B]ut the REAL treat is the menu, featuring extremely honest commentary from the owner," she wrote, describing the tone as "Hell yeah, absolutely! But also temper your expectations." As of this writing, it has been liked and shared more than 70,000 times.
In the descriptions for each dish, owner Feigang Fei lets you know if you order the Imperial Rolls, they are good but small. The Orange Beef "isn't THAT good," which is a bummer for those of us who love orange chicken. He's also "not a huge fan" of the Sweet and Spicy Pork Strips, but he'll sell them to you if you really want them.
Fei also regularly adds new menu items to his menu but notes that "he should spend more time eating in his own restaurant," so buyers beware. If you choose to order anyway, Fei wants you to know, "it's your call."
Noted.
Fei is also very passionate about items he does like, which includes anything with potatoes, like his Potato Julian, where he declares: "Let's salute potato." I cannot agree with this statement more.
In an interview with the Today Show, Fei said he wrote the menu descriptions for customers unfamiliar with some of the ingredients or wanted to know how spicy a dish would be.
"The whole idea is just to let people know what they're ordering," he said. "A lot of people found it very funny [and] very helpful. I was so encouraged by them. I didn't think I needed to write comments for each item, but I was encouraged by them, their comments, and their feedback, so I finished all of them."
Obviously, Fei's casual and honest assessment of the food he serves has garnered some serious attention, which is always good for business. Still, the ever-consistent owner wants to make sure before you dine with him, you know what you're in for.
"A lot of people want to be the best …and we are simply not the best," he said. "That's a fact. We just try to be a little bit better every day. And that's how I see it. I don't want to get people disappointed."