I Want To Be More Like My Mom
by Nicole Tieman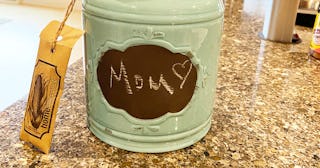 Courtesy of Nicole Tieman
Soon after my son was born, my mother came to visit. I had an emergency Cesarean section and, though I wouldn't admit it, I needed some help during my recovery. She offered to hold my son, wash bottles, take our dog out to do her business, anything that would allow me to rest.
Instead of resting, I fought with my mother. I criticized her for washing the bottles wrong, for messing up my son's sleep schedule, for trying to take over. Instead of being thankful for — and receptive of — her help and motherly knowledge, I pushed her away at a time when I needed her most. After only a couple days, she booked a last-minute flight back home and left me alone with my baby, just as I had wanted.
I spent more than a week justifying my behavior to my husband, my friends, and myself. I have the right to parent the way I want and she wasn't respecting my decisions or way of doing things. My schedule is the only thing keeping me on track and stopping me from losing control of everything. I recited different variations of those lines over and over again. I didn't call my mother and she didn't call me. Before then, I can't remember the last time I had gone more than a day or two without at least texting her.
Eventually the storm passed and we moved on, but I think about that fight all the time. When my son runs a fever, develops a rash, pokes a tooth, or bumps his head, I want to call my mother and consult with her. Is this normal? Can I use Neosporin on this cut? How long does it take to get rid of diaper rash? Despite having my husband to help, two best friends who are in the medical field, and the omnipresence of Google, my instinct is always to ask my mother first.
She raised four kids virtually on her own. My older brothers and I never had to worry about whether or not we'd have dinner or how we'd get to our after-school activities. Our mother worked all day and moonlighted as our personal chauffeur at night and on weekends. All four of us had different events and schedules, but she never missed a beat. She found a way to fund our private K-8 educations and ensured we had every opportunity to participate in music and swim lessons, forensics clubs, and club soccer. She drove us to practices, games, and out-of-state tournaments. She cheered louder than all the other parents and moved heaven and earth to never miss a game. We were always on the go. Some of my fondest memories are of me sitting in the front seat of my mother's silver Dodge Caravan, listening to 1990s Top 40 hits on the radio as we shuttled back and forth across town to different soccer fields. I can't hear Third Eye Blind without thinking of her.
It was always my mother who dealt with the really hard stuff, too. When any of us got into trouble, my mother was there to clear it up. All four of us experienced childhood and adolescence differently, and acted out in ways that had to have been extremely difficult for our mother to handle. Yet, she did it. She rarely complained and was always there for us, no matter what, with a loving and selfless attitude.
There are times now when I feel like I'm failing as a mother. On mornings when my son fights me as I change his diaper, feed him, brush his teeth, clothe him, and put him in his stroller, I want to give up. Sometimes I put him in his high chair, turn on Sesame Street, and cry in the bathroom. It's in those moments that I think about how truly remarkable my mother was, and still is. Sometimes it fills me with guilt because I don't think I can ever be as good as a mother as she.
Mostly, thinking about her during those moments fills me with hope. She was able to be a wonderful mother to four children who didn't appreciate or thank her nearly enough. Some of her strength, patience, and selflessness has to live inside me somewhere. So I work on it every day. A deep breath as my toddler son flicks yogurt in my hair before work. A forced smile instead of a harsh look when he accidentally (or purposefully) hits me in the face with his sippy cup. A word of encouragement instead of a scold when my son is pushing his boundaries. These were the kindnesses my mother gave me throughout my life, and they're what I hope to give my son in abundance throughout his.
A couple years ago, I filled a cookie jar with 52 reasons why I loved my mother and gave it to her for Mother's Day – a gift that she could open every week for a full year. I borrowed those reasons from a journal I keep, where I regularly write about my mother and things I admire her for. I've never told her about the journal, but I probably should. After caring for me, helping me, and pouring unconditional love on me for the past three decades, she more than deserves to know just how deeply she has influenced every aspect of my life and continues to shape who I am as a woman and as a mother.
There are millions of mothers, as well as grandmothers, aunts, sisters, and friends, who have given of themselves to see others succeed. They've shared their love freely, facilitated moments of learning and growth, and have sacrificed greatly to the benefit of those they loved. To my mother, and every other amazing woman who has put the health and happiness of someone above their own, thank you. Your love and guidance has shaped a generation of kinder, stronger women who will share that love and guidance with generations to come.