More Than Half Of People Won't Travel For A 2021 Wedding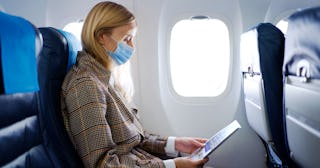 Andriy Onufriyenko/Getty
On New Year's Eve, I ate a steak with my pants unbuttoned, watched my friend get married via Zoom, then took a bath. I was in bed just after 8:00 p.m. It was glorious.
While I would have loved to be up close and personal watching my friend say "I do" in her amazing gold dress (she didn't hold back just because she couldn't have a huge in-person wedding, and I love that about her), I enjoyed watching just as much in my pajamas.
Let's face it — when you're sans Spanx, heels, and an itchy hairdo, everything is better.
She and her soon-to-be husband knew in 2020 that they wanted to get married. With that being their main goal — to start a life together — they didn't let the pandemic hold them back. But they knew because of that, they were going to have to make some changes with their original plans.
That's just what they did. They sent out wedding invites with a link to the Zoom meeting and had a short, sweet wedding … and everyone was able to watch and enjoy it without being at risk.
We've heard that weddings have been superspreader events. Last summer, not very far away from my hometown, a small wedding infected 176 people with the virus, which led to one death. There were 68 guests in attendance, but the event caused three times that number of people to come down with the virus. Let's think about that for a second.
One afternoon of mingling and dancing became one of the biggest spreaders in the state — and it could have been avoided. Parties and gatherings like this are called superspreader events because that's what they do: spread the virus like wildfire.
Thankfully, potential wedding guests seem to be coming to their senses. According to a recent survey done by Floridapanhandle.com which asked 3,000 Americans from all over the country how they felt about weddings in 2021, 57% of people aren't comfortable flying to attend a wedding in 2021 under any circumstances.
So, even if it's a small guest list and you plan on making all your guests wear masks, you may want to rethink your plans if you have your heart set on a large gathering and really want everyone to attend in person.
There's no need not to have what you want on your special day, but it's probably going to require you to wait a bit. Not only are you going to have lots of declines, but it's important to face the facts here: A wedding is an event where people eat, drink, and mix and mingle. You let your guard down, you dance, you forget there's a global pandemic going on. No one wants to be responsible for holding an event that infects hundreds of people and leads to deaths.
The survey did find that if it was a family member getting married, 21% of people would be comfortable flying and 22% would be on board if they knew proper safety measures were being taken, like wearing masks. Only 15% of people would come if they knew there would be a limited guest list.
Those numbers aren't very high for people hoping to have a good turnout for their special day. Not to mention everyone has their definition of what "small" means. To some, that may be 50 people; to others, it may be 15.
So, if you have your mind and heart set on a big gathering where everyone can come and celebrate with you — including older relatives, people who have to travel to get there, and people with a compromised immune system — you are going to want to put your special day on hold.
On the plus side, that's more time for you to save money and plan (just think of all the new ideas that will pop up on Pinterest between now and then!). And, if you aren't opposed to exchanging your vows with the two of you and inviting all your friends and family via Zoom, it can be really lovely. My friend's virtual wedding was proof. No one was blocking my view of the bride, I got to watch in the comfort of my own home wearing what I wanted, and the couple didn't have to worry about their special day being tainted by this deadly virus.
We could all use a little cheer in our lives right now, and weddings are pretty damn magical. But knowing your moment of joy could become a superspreader just sucks the magic right out of it. And since over half of your intended guests will probably agree, you're better off ringing those matrimonial bells at a later, safer date … or through a screen, where you don't have to put anyone at risk to celebrate your love story.
This article was originally published on