SNL Drops Musical Guest After Videos Of Him Partying During Pandemic Go Viral
by Madison Vanderberg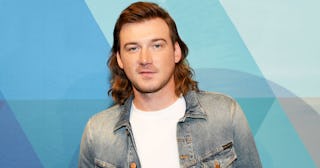 Jason Kempin/ACMA2020/Getty
Country singer Morgan Wallen booted from SNL lineup after videos of him partying with and kissing random college girls surface
Saturday Night Live made its triumphant return on Saturday, October 3, 2020, and it was just like the before-times, except that everyone inside the building was tested for COVID-19 daily, the audience was paid, and basically everyone except the cast was required to socially distance and wear a mask at all times. Because SNL is taking every precaution to keep the show going during the pandemic, they have a zero-tolerance policy for musical guests and hosts who party like we're not in a pandemic, so when this Saturday's musical guest Morgan Wallen was spotted partying maskless in Alabama and making out with random girls, SNL gave him the boot.
Morgan Wallen is a 27-year-old country star who got his start on The Voice and while SNL would have seriously impacted the trajectory of his career and Wallen even tweeted about his upcoming performance saying, "[it] doesn't get much bigger than this when it comes to television," this ding-a-ling lost the opportunity when he decided to party it up the week of his big SNL debut.
In a series of videos spread all over social media, just a day after his SNL announcement, Wallen was seen partying, drinking, and making out with like, half a dozen girls at the University of Alabama. And of course, nobody is wearing a mask because #Alabama. It's one thing to party without a mask but this guy is literally kissing anyone that walks near him! It's like a parody of what not to do during a pandemic.
https://twitter.com/jetpack/status/1312977024823197696
Once the videos went viral, SNL dropped him from the lineup and it seems like Wallen is pretty remorseful, as he should be.
"This is a tough video for me to make but a necessary one," Wallen said in an apology video posted to his Instagram account. "I'm in New York City in a hotel room. I was getting ready for SNL this Saturday. And I got a call from the show letting me know that I will no longer be able to play, and that's because of the COVID protocols, which I understand. I'm not positive for COVID, but my actions this past weekend were pretty short-sighted…I respect the show's decision."
https://www.instagram.com/tv/CGDvWpAniWw/?utm_source=ig_embed
He said that Lorne Michaels mentioned he could return to the show in the future, but the singer — who was also arrested in May for drunk and disorderly conduct at a bar — took the apology video in an existential direction.
"I think I've lost myself a bit, I've tried to find joy in the wrong places and it's left me with less joy," he said. "I'm gonna take a step back from the spotlight and work on myself."
Yikes. Well, good luck to this man on his journey and good luck to SNL finding someone else to perform in two days.