These Are The Most Popular Baby Names From Around The World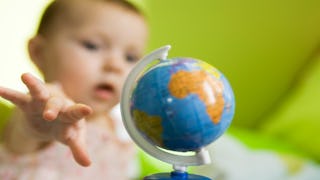 PhotoAlto/Michele Constantini/Getty
It's a big world we live in, but if there's one thing that we all have in common, it's the act of finding the perfect baby name. Across all cultural, racial, geographic, and socioeconomic divides, parents put a lot of thought into what to call the precious next generation. (Although we all end up calling them by their siblings' names at some point anyway.)
Ever wondered what our international counterparts are calling their kids? Some of the findings are very interesting. For instance, Mohammad and its various spellings is wildly popular in two big capital cities, one area has the same #1 name for both boys and girls, and the entire world loves the name Sophie/Sophia.
Japan
According to data compiled by Akachan Honpo, a Japanese chain of baby stores, the top three names for boys are Ren (蓮), Hiroto (大翔), and Haruto (陽翔); for girls, Aoi (葵), Yūna (結菜), and Himari (陽葵). The most popular boys' names are sticking closely to tradition, using -to, -ta, and -ki endings. But the trends are changing for girls' names, as only one of the top ten most popular (Riko (莉子), #10) ends in the -ko suffix that has been common in the past.
Italy
Istituto Nazionale di Statistica (ISTAT) reports that the top three Italian boy names are Francesco, Leonardo, and Alessandro; for girls, Sofia, Giulia, and Aurora top the list. All top ten boy names are pretty classically Italian, but there are three non-Italian outliers in the top ten female names- – Alice (#4), Emma (#6), and Beatrice (#10).
Russia
The Moscow Civil Registry released its findings on the most popular baby names, and Alexander comes first for boys, followed by Mikhail and Artyom. For girls, it's Sofia (or Sofya), Maria, and Anna. The only change in either list since 2016 was that Darya, which was previously #10 on the list for girls, dropped off entirely.
Germany
The Association for the German Language (GfdS) surveyed over one million births to find that Maximilian tops the list for boys, followed by Alexander and Paul. German parents are naming their daughters Marie, Sophie, and Maria. They also reported that a few names were proposed by parents but rejected by the government: Lucifer, Batman, Pinocchio, and vom Meer (which means "from the ocean").
Israel
Israel's Interior Ministry found the most popular Israeli boys' names were Mohammad, Yosef, and Ariel; for girls, they were Tamar, Avigail, and Miriam. Mohammad and Tamar topped the lists for the fourth consecutive year, while Noya replaced Talya for girls and Lavi replaced Noam on the boys' list.
Spain
Spain's Instituto Nacional de Estadistica reported that its most popular boys' names were Lucas, Hugo, and Martin, while the top girls' names were Lucia, Sofia, and Maria. Lucas unseated Hugo for the number one spot, and on the girls' list, Emma bumped Noa off the charts for #10.
South Africa
According to Statistics South Africa, the top name for both boys and girls is Enzokuhle, which means "to do good." Rounding out the top three spots are Lethabo and Melokuhle for boys, and Melokuhle and Amalhe. But for middle names, it's a different story — for boys, those top three were Junior, Blessing, and Gift; for girls, they were Precious, Princess, and Angel.
Norway
Statistisk sentralbyrå (Statistics Norway) found that for boys, the top three names are Jakob, Lukas, and Emil; for girls, it's Sofie, Nora, and Emma. Interestingly enough, in Oslo — the country's capital — the top boy's name is Mohammed, and Sofia-with-an-a is the most popular girl's name there, while the country's overall top choice, Sofie, is way down at #20.
France
France's Institut nacional de la statistique et des études économiques (Insee for short, because damn that's a long name) is reporting that the top three girls' names are Emma, Louise, and Jade — a big victory for Emma, since Louise has been the top name for a full decade. For boys, the top three names are more traditionally French: Gabriel, Louis, and Raphaёl.
Australia
According to the continent down under's leading social researchers, McCrindle Research, the top three girls' names are Charlotte, Olivia, and Ava, and the top three boys' are Oliver (in the top spot since 2013), William, and Jack. Newcomers into the top 100 are Freya, Luna, Harlow, Elena, and Millie for girls; Arthur, Bodhi, Jude, Asher, and Leon for boys.
Britain
Per data compiled by Britain's Office for National Statistics, the top three names for boys are Oliver, Harry, and George — and for girls, Olivia, Amelia, and Isla. In London, however, the top name for boys is Muhammad — and if it were lumped into a category with all its various spellings (Mohammad, Muhammed, Mohammed, etc.), it would unseat Oliver as the most popular country-wide.
These are the popular baby names that parents are bellowing across playgrounds the world over – just another thing that makes us so much more alike than we may realize.
Looking for baby name inspiration? Look no further than the Scary Mommy baby name database!
This article was originally published on