How Motherhood Changed My Heart
by Faye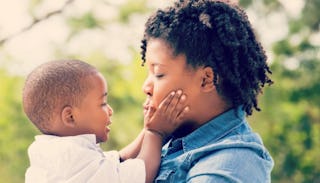 Jodi Jacobson / iStock
Recently I've been talking with my eldest son (who is a whopping 4 years old) about the third baby on the way. I'm trying to help him understand what to expect so that the transition will not be so jarring. I find myself talking a lot about how things will change and how we will all have to adjust. We discuss the baby's needs, how the baby will sleep and cry a lot, how Mommy and Daddy will need to spend a lot of time taking care of the baby and how he can help as the eldest brother.
Yesterday he asked to feel the baby kicking inside my belly. As my bump rippled underneath his small hand, he earnestly told his little brother that the baby will cry and sleep a lot—and that it will be our job to teach the baby everything. I smiled, pleased that he was absorbing and understanding our conversations.
Then my son asked me a question that caught me off guard.
"Mommy, did things change for you after I came out of your tummy?"
I opened my mouth to answer, and then paused. Did things change for me? How could I possibly answer that question in a way that my preschooler would understand?
I wanted to tell him that my entire life was turned upside down by motherhood. That in the split second he entered the world, I felt the most profound sense of love and obligation in my life.
I wanted him to know that those first couple of minutes after delivery, when he wasn't breathing and NICU doctors were running into the room to assist, felt like an eternity to me. That I was more scared than I'd ever been. That I shouted at the doctors and nurses with increasing intensity as they ignored me while they worked intently on him.
That his first feeble cries were the sweetest sounds I'd ever heard. That waves of relief washed over me, cloaking me in warmth as I wept in gratitude.
I wanted to express how scared I was. Afraid that I would screw something up. Worried that he wasn't eating enough. Nervous that someone would drop him. And anxiety-ridden as I watched him sleep for hours, gently touching his cheek and placing my finger under his nose to make sure he was still breathing.
I wanted my son to understand how undeserving I felt to have been given this gift—this perfect little human being. That I was terrified of the other shoe dropping and something going terribly wrong. That I didn't feel worthy of the heart-bursting joy that had been brought into my life.
I wanted to articulate how hard it all was—feeding, not sleeping, tracking pooping patterns, obsessing over every cough, every rash, crying over never-ending colic, coping with new parent anxiety. How overwhelming and isolating motherhood felt.
I wanted to explain how my priorities shifted. How one of my best friends told me he'd changed my heart. That nothing else was as important to me as him, how suddenly I could overlook a messy house, leave my job at a reasonable hour, and decline happy hour invites in favor of more time with him.
I wanted my son to comprehend that I would never again sleep as soundly as I once had. That I would creep into his room throughout the night to check on him. That I would scan Google on my phone in bed, searching for answers on everything from cradle cap to preschools. That if he was out with his daddy, and they were even a few minutes late returning, I would immediately begin to panic that something horrible had happened. That I missed him while he slept and would sometimes sit in his room to be near him. How I secretly loved it when he would crawl into our bed in the middle of the night.
I wanted to tell him about the frustration that comes with parenthood. How my rock-solid professional confidence had been shaken to its core by this little person who couldn't care less about my credentials. How trying to reason with a toddler is completely futile. That I couldn't count on him to not throw a temper tantrum at the most inopportune moments. And how, ultimately, I simply could not control his moods or behavior, no matter how hard I tried.
I wanted him to know that I never planned on having more children. That we were on the fence about one and were relieved with how well he fit into our lives. That pregnancy was not easy for me. But that we loved him so much, we wanted to give him a sibling. That we couldn't imagine him growing up without any family outside of his father and me.
I wanted to tell him how I worried I could never love another child as much as him. How I felt guilty before his brother was even born. How, miraculously, I felt the same profound love and joy when his brother joined us. That I had no words—only tears—to express how I felt at that moment. That my heart grew fuller and richer, now accommodating both of them.
I wanted to express how my heart aches when I watch him and his brother play together. How I sometimes listen at the door to their bedroom, eavesdropping on their conversations. That I melt when he tells his little brother that "family always sticks together." That even their elaborate plans for destruction make me laugh in awe, long after they've been disciplined and have gone to bed.
Most of all, I want to tell him that my friend was right. That my heart did change once I had him. I will never be the same person. Everything in my life has realigned as he and his brother have risen to the top of the list. Every emotion is felt more deeply, more acutely. He will forever carry a piece of my heart with him. And he was the first. The impetus. The one to start it all.
My son looked up at me inquisitively as these thoughts flooded my head.
"Mommy, are you listening to my words? Did things change when I came out of your tummy?"
I looked down at him and smiled. I nodded and gave him a squeeze.
"They sure did, Bubby. Everything changed."
This article was originally published on