Interval Momming: How I Put My Sanity First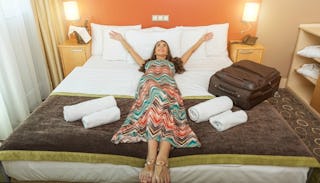 Gergely Zsolnai / Shutterstock
A Type A mom is something I am not — not even close. If I were doing the grading, I might call myself a C+ mom, according to society's standards of course. Now, if the Shitty Moms or the Scary Mommies were grading my stellar motherhood performance, I would score off the fucking charts. And frankly, those are the moms I want in my tribe anyway.
When my postpartum depression fog cleared, and I realized and accepted (thank you, therapy) that I wouldn't be the super mom, master of breastfeeding and all Pinterest crafts, cooker of nightly homemade dinners, and lover of Mommy and Me, the playground, and kids' birthday parties, my best friend created the perfect name for me. She crowned me the Three-Hour Mom — a crown I continue to proudly wear every day.
Yup. I'm good for three hours at a time. "Interval momming" is what I'm calling it. Three hours and then mommy needs a time out, a nap, a glass of wine, or just a minute to sit down and breathe before the next three hours begin. Sometimes those three hours are wonderful and filled with hugs, kisses, laughter, snuggles, "Mommy, I love you"s, dance parties, fully turned on listening ears, easy play, and seamless transitions.
But those other times? They are filled with cries, screams, meltdowns, tantrums, "No," "I'm not ready," "I don't want to," "Mommy, Mommy, Mommy, Mommy, Mommy," "I have to go potty" (but you said you didn't when I just asked you five times and now we are getting in the car), and "I don't like pizza" (but you just asked if you could have pizza for dinner and if you could help me make the pizza, and you loved pizza yesterday).
After a ton of three-hour intervals, like weeks of three-hour intervals, I need a vacation — an adult vacation. Okay, I'm totally lying. After days of three-hour intervals, I need a vacation. Don't you? I don't always get one, but I could really use the alone time for a few days.
Just picture it: You check into a hotel by yourself — free from the tiny humans and the sometimes man-child you are used to sharing space with. You get to your room and see a really large bed that could fit your entire family, but it's just for you.
You waste no time. You rip your clothes off, put on that soft plush robe, and get under the clean sheets you didn't have to wash, dry, or iron. And you fall asleep. You wake up, and maybe you sleep some more. When you wake up the next time, you order room service and wine because, you know, someone else making and bringing you the food for a change. You eat and drink and savor every bite of that brownie sundae you ordered for dessert because you don't have to binge eat it in secret. No little ones to share with tonight!
While enjoying the food coma you're now in, it's time to Netflix and Chill. And I'm talking the literal meaning of that phrase, what adults think it means — actually watching Netflix while chilling out in bed. I'm not talking about sex of any kind while Netflix plays in the background. Unless that's what you want — to eat, sleep, and have sex alone just for a couple days before returning to motherhood. Break out the magic wand and more power to you, Momma!
And the next day when you wake up without the beeping of an alarm — and later than 6 a.m., maybe you venture out or maybe you just do it all over again! When you return to the land of mommy, you feel energized and refreshed, ready to rock it and be the best mom and wife you can be.
And then three hours later, the feeling is gone and you are begging your son to watch a TV show because you don't have the energy to play trucks on the floor. Your husband gets home from work, and you've magically come down with a migraine and need him to tend to the never-ending needs of your child as well as is own. He probably watched porn and had sex by himself while you were gone anyway, so at least that's one less thing to worry or feel guilty about, and you are way too tired to worry or feel guilty anyway.
While I proudly rock my Three-Hour Mom crown, it does create an inner struggle: the struggle between wanting to be that incredible present mom and wanting to be that carefree independent woman. I know I can be both, but sometimes I want to be the latter more. That means I try to be present as much as possible when I'm with my family. Even if that means turning the TV on for my son because I'm too tired to play, I'm still sitting right next to him trying to steal cuddles. Even if that means scheduling a playdate so someone else can keep my son busy while I get to interact with someone my own age.
I want my son to feel loved and be happy, which means he needs to see his mom happy. Happy mommy equals happy child. For me to be happy, I have to indulge in those Three-Hour Mom breaks whenever I can.
School and camp have done wonders for the mom break. My son gets to play for four hours while learning to be a caring human who knows his ABCs, 123s, and can lead you through the entire Friday night Shabbat service. And Mommy gets to go to yoga, maybe have a meal with another mom, and do errands alone. Doing errands without your kid in tow is like a mini vacation. Don't you fucking love the grocery store and Target when it's just you? It may be the fastest four hours of my life, but I'll take it — every day. I look forward to school closings and breaks…said no mom ever!
Every couple of months, I try my very best to take a short trip alone. Usually, that just means leaving a couple days early for a New York trip that my husband, son, and I were already scheduled to take. Other times, it's a girls' trip with my college besties to whom I don't live near anymore. Next month, it will be Campowerment for four days.
Whatever it might be, I do this for myself and I never make apologies or feel guilty. My friends who don't like to leave their kids as much as I do — and I have no problem leaving — joke that I just got all my guilt and crazy out in that first year of motherhood (thank you, postpartum depression). As moms and wives and women, we give and give and give. We do so much for others and take care of everything. It's okay, even necessary, to take time for ourselves. Alone time makes me a better woman, a better wife, and a better mom.
Some moms might not believe in the Three-Hour Mom. They would probably view it as another name for lazy. But I know my limitations. I know what I need. I put my happiness and sanity first. I'm just as important as my child. I share the center of my universe with him and together we rule it. I am who I am. I'm the Three-Hour Mom. And I'm not sorry. You should give it a try!
This article was originally published on