Remembering To Relish The Moments
by Kylie Blenkhorn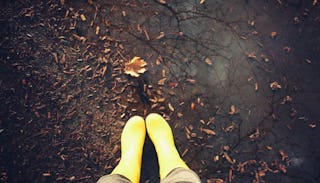 michellegibson
Rainy days with a newborn aren't really a big deal. That is not to say that being cooped up in the house longer than you want to be is pleasant, but as any new sleep-deprived parent can attest, newborns tend to spend most of the day sleeping (and then partying all night).
Being stuck inside the house with a sleeping baby is a whole lot more enjoyable than being trapped inside with a hyper toddler dying to burn off steam. I hear and see on Facebook many of my fellow mom friends pleading for rainy day activity suggestions or cursing the weather forecaster's bleak predictions.
I have a slightly different outlook. Don't get me wrong—I, too, have my share of near nervous breakdowns, like when my son is begging to go outside to play or walk to the park, only to have to remind him it is freezing cold and raining buckets outside and we are housebound for the majority of the day. So, I get it, I do, but for me, now that I have finally come out of the fog of postpartum depression and anxiety I was in for the first two years of my son's life, rainy days are a great opportunity to exercise gratitude.
Getting pregnant with my son was not an easy task, unlike my sisters, who both had gotten pregnant with minimal effort. I was diagnosed with polycystic ovary syndrome (PCOS) when I was 16 years old. I obviously wasn't planning on having babies any time soon when I was first diagnosed.
That said, I cannot remember a time when I didn't want to be a mother. During my younger years, when questioned about what I wanted to be when I grew up, my answer was (and to this day still is) simply, "a mother." I felt slightly like a sell-out the older I got, when feminism started speaking to me and I saw so many others around me postponing or foregoing motherhood, and instead striving for impressive, corporate-driven career aspirations. So, I quieted the voice inside me that kept shouting, "I just want to be a mom!" and fell in line with the rest of my peers, as we began to navigate our post-secondary school futures.
To be told at 16 that it would difficult to get pregnant was not as significant as being retold the very same thing in my late 20s while actively trying to achieve that dream. We knew there were going to be challenges. We knew it would be less romantic and more "procedural." We knew it might not happen as fast as we wanted it to.
What we did not know how heart-breaking, soul-crushing, energy-sucking, and maddening it would be. It nearly destroyed us. Our rock-solid relationship that we had both carefully and lovingly cultivated and nourished, taking care to ensure we had a sturdy foundation built before we brought a kid into the mix, was crumbling before our eyes.
Then, when all hope was lost, and we each had nothing left to give, we threw in the towel on our hopes of conceiving. We both felt emotionally battered and too weak to continue our plight. Without speaking the words, we both knew that if we didn't give up then, our marriage would slide from dreary and draining to irreparable, and we both didn't want to see that happen.
So, we gave up and although my heart was broken, my body was grateful. I knew I couldn't dwell on the decision as it would only lead to arguments and tears. Instead of focusing on the baby I longed for but could not have, for the first time in years, I focused on myself and my own well-being. The fertility medication had done such a number on my kidneys and liver, not to mention messed up my cycle to the point it disappeared entirely, that I started acupuncture treatments and Chinese herbs to try to repair all the damage that had been done. I gave up dairy and meat, and eventually went completely vegan. Our marriage almost miraculously began to repair itself. It began to rapidly replenish itself with love and support, like a shriveled sponge being dropped into a sink full of water. I replaced specialist appointments with acupuncture, trips to the gym, hiking trails, and traveling—we even went on a Caribbean cruise.
Six months later, we were healthy and happy, and the painful four-year infertility roller coaster was beginning to fade into the past.
Life felt good again.
Then the craziest, most unexpected thing happened—I got pregnant. No fertility medications, no medical procedures, and more importantly, no trying. I was in such a state of disbelief that I spent the first six months of my pregnancy in denial, terrified I was going to jinx it. Although I didn't suffer from any morning sickness, it was a hard nine months. I was plagued with plenty of other pregnancy hardships, such as migraines, hypertension, preeclampsia, and gestational diabetes, just to name a few. The term "high-risk pregnancy" equated to "high-stress pregnancy" for me and included biweekly ultrasounds and weekly non-stress tests at the hospital.
I was so worried about growing a healthy baby that I barely had chance to enjoy the fact that I had managed to get pregnant in the first place. My due date couldn't have come soon enough and at 37 weeks, when my doctor insisted on inducing me due to my skyrocketing blood pressure, I was more than ready. Fourteen hours after my water broke, I still wasn't progressing and underwent an emergency C-section. I was beyond scared about being sliced open on an operating table, but having my husband in the operating room with me helped tremendously and the minute I heard our son let out his first cry, I was overcome with joy. He was finally here, and he was perfect. My heart was bursting, and all the years of sadness and disappointment vanished. I finally felt complete.
It is on those rainy days, when the house feels too small and the hours are passing too slowly, and the daily struggles of motherhood feel larger than usual, that I make a point to stop and look at my son and relish in his mop of blonde hair and his big, bright blue eyes. I remind myself of the heartache and pain we once felt in our journey to get him, and my heart fills with a rush of gratitude. Gratitude for him being ours, gratitude for the universe blessing us with his generous spirit and kind heart.
Gratitude for the sunshine when it rains.
This article was originally published on