This Mother's Day May Be My Last -- Let Me Spend It With My Son
by Orquidia Tamara Hernandez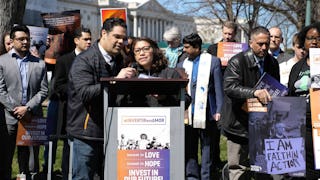 Photo credit: St. Clair Detrick-Jules
My pacemaker is functioning at 4%. This Mother's Day might be my last. Unfortunately, I won't be able to spend it with my only son, who has been detained by Immigration and Customs Enforcement (ICE) for almost 18 months. He, in turn, has been separated from his wife, son and newborn baby, and none of us know when we will see him again.
Last December I, my son, expectant daughter-in-law, and young grandson crossed into California after fleeing Guatemala amid death threats from drug cartels. We were immediately detained and separated. My son was sent to Georgia, I was detained in California, and my daughter-in-law was sent to DC where she gave birth to my second grandchild. This precious new baby is a U.S. citizen.
Though I was eventually released to be with my daughter-in-law and grandchildren, my application for asylum and my son's bond have been denied. We don't have the resources to fight back. I've applied for a work permit which would allow me to have the surgery to repair my heart, but even that has been delayed. If I don't receive the surgery, I likely will not survive another year.
Sadly, my case is not unique. Hundreds of children and parents have been separated since this past summer. I can barely stomach the heartache of the children that have died at the hands of U.S. Customs and Border Protection.
Nevertheless, I have become an advocate and an activist for my son and others who are in our situation. I have participated in public actions on Capitol Hill and at Cedar Lane Unitarian Universalist Church, where Rosa Gutierrez Lopez, a mother of three, has remained in sanctuary since December. She made the decision to remain in the United States instead of self-deporting back to Mexico last December in order to renew her application for asylum.
Rosa wants what every mother wants — to stay and care for her three American-born children. She has made plea after plea with local and national elected officials to help fight her case. Her son and daughter have even made visits to Senators Tim Kaine's and Mark Warner's offices to deliver their mother's letters. To see the strength she has demonstrated during this time is remarkable, but there are no guarantees as to how long she will be able to remain in America. If she is deported, this could also very well be her last Mother's Day with her children.
I can't describe how helpless I feel, at times, when I think about the fact that I can't help my son, who has been detained for 16 months, and I can't help financially support my daughter-in-law, who I am living with right now. We came to this country to make a better life for us all, but we feel almost as endangered in America as we did in Guatemala.
Once a child enters this world, it is every mother's hope to make a better life for her family in the best way possible. Every night I ask God to touch the hearts of those who govern this land, and that judges be allowed to judge each case, so that they can give me the opportunity to see my son free. The trauma that we have suffered — and that other migrant mothers and families are enduring — may never be undone due to the immorality and hatred that is brewing. It is my hope that elected leaders use their power to invest in love and bring families together.
This article was originally published on