Life Reflected In A Mother's Hands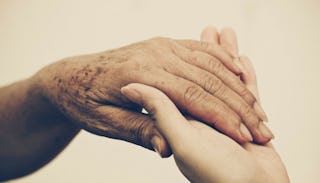 weerapatkiatdumrong / iStock
I recently saw an image of my grandmother's hands in a family photo album. They were worn from years of use, tanned and wrinkled. The knuckle on her ring finger appeared larger than her ring and I wondered how many years she had worn her emerald only for being unable to slide it off. Even in the photo, just seeing the shapes of her fingers and the pink creases of her palms, I could feel her warmth and hear her wild laugh. Tears stung in the corners of my eyes as I sent up a small prayer for her spirit to rest in peace.
And then I started to wonder about my own hands. Looking closely at them, I could see a series of milestones and memories streaming across my mind.
My hands were the first to touch my babies. Gloved doctors helped my husband and me reach out and grasp our first child. I held his small frame close to my bare chest as I cried and laughed. We sang a soft and long-awaited tune of happy birthday as his voice cried out for the first time.
My hands have touched fevered heads, brushing aside bangs and tears to see how sick my little ones were. They grasped onto chubby cheeks to feel the heat of the flu working its way through my babies' bodies. Holding them close to my chest, my hands would rub their backs and hold their heads while I sang them back to sleep.
My hands have worn blisters from the work required to raise strong kids. From raking the yard to scrubbing floors, pulling weeds in the garden to changing tires, my hands move through our life fixing and cleaning so that my children have comfort and safety.
And sometimes my hands have clenched into frustrated fists in the middle of arguments with my children as they push boundaries and test my ground, blowing hot air and whispering a count of 10 to cool my jets while a child throws an epic tantrum in public, or my when my other child took scissors and gave his brother a haircut.
My hands have shaken in fear while my feet paced the green linoleum floors of a hospital, the stench of disinfectant and the sounds of TV chatter filling my ears while I waited in a constant near-panic state to find out when my baby would come out of surgery.
My hands have been slippery from sweat after running around the yard chasing my kids and falling over in fits of laughter into piles of leaves, my sides burning and my breath short while I look at my kids and think, "they are growing too fast."
And my hands tensed enough to reveal white knuckles when I force myself to stand back and let my kids experiment with independence. Seeing their scraped knees and fat lips from trying to stretch their might in this big new world, it is all I can do to not smother them with my need to protect them.
As my children grow further away from me and my role of mother for them morphs slowly toward that of an advisor and less of a den mother, I can feel my heart swelling with my pride and my hands beginning to show signs of wear — just like my mother's and my grandmother's.
Someday I will look down and not recognize my hands. They will be tan and wrinkled and my rings may not fit — or ever come off — and in those creases and imperfections will exist a long and exquisite history of love that only a mother knows.
This article was originally published on