Being Single, Lesbian, And 'MotherStruck' — Breakthrough Series Reveals Road Less Traveled To Motherhood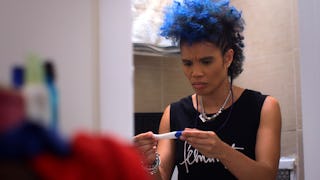 Scary Mommy Originals
This show breaks the motherhood mold and you need to see it.
For a single lesbian, getting pregnant isn't exactly straightforward. For starters, it involves obsessing over something most lesbians never need to (and probably don't want to) think about: sperm.
"For me, getting pregnant wasn't just punching a hole through the condom, or having a conversation with my partner about doing away with preventative measures," says Staceyann Chin. Chin wrote the acclaimed one-woman play MotherStruck that was directed by Cynthia Nixon and produced by Rosie O'Donnell. Chin collaborated with Scary Mommy to bring the story to the screen. The series is based on her unique journey to motherhood, and is set to premiere at the Tribeca Film Festival on April 25th and 30th.
The story is heartwarming, heartbreaking, and almost unbelievable at times. "I had to go out and seek sperm, which is a very hilarious experience because, usually the acquisition of sperm is usually tied up with so much romance. There's candlelight, there's dinner, there's flowers. But when you are not romantically linked to the person you're asking for sperm, what is the roadmap for that?"
MotherStruck is a deeply personal story based on Chin's life as a single, lesbian woman finding her own way through pregnancy without the help of a partner or even her family — particularly her mother.
"I was abandoned as a child by my own mother, and I essentially grew up without a relationship with my mother. And so, it's something that I knew that I wanted, and had mixed feelings about […]," Chin says.
It was this abandonment and loss that gave Chin an almost utopian idea of family and motherhood. "In my brain, family was this deeply idealistic place where everybody loved you all the time," she says. She knew she wanted to raise a girl. For Chin, motherhood was a chance to heal from her past.
So she set out to have a baby by going on the hunt for sperm. This moment is depicted in the series with a hilarious scene at a house party full of gay men in which her friends look on as she sidles up to a "sperm buffet." Shockingly, she finds someone at the party game enough to hand off his DNA with no attachments.
But Chin did not have an easy time becoming pregnant. She had to have fibroids removed and went through a breakup while she was undergoing IVF. Additionally, not everyone was accepting of Chin's decision to become a single mother by choice. One of the stars of the series, Gina Yashere, adds comic relief to some of the hard questions Chin had to deal with. "We have a refugee crisis, Kardashians being born every eight minutes, why would she want to bring a child into this world without a partnership?" says Yashere who plays "Gina" in a bedroom scene with her own partner. When her friends questioned why she wanted to pursue single motherhood, Chin, true to her bold and feminist self, went after what she wanted.
"My response to them was to go and have a baby," she says.
"I wanted to make the point that not only was there no right way, there was also no wrong way, and that becoming a mother is a remarkably collaborative process between yourself and your environment," says Chin.
Co-star Laura Gómez of Orange Is the New Black chimes as the character Marta who emphasizes the importance of "feeling centered" and "visualizing yourself as a mother" in order to have the best chances of making it happen — especially with a sperm donor who has "a good aura."
For Chin, now mother of a 7-year-old, life continues to be "full and ridiculous and beautiful and challenging." If that doesn't sum up motherhood, I don't know what does. While the two are similar in some ways, they are also extremely different. Chin is a fighter and her daughter is a lover with an endless imagination.
"I think that's the thing with motherhood," says Chin. "It's the most amazing thing, but it's also the most terrifying thing to ever happen to you."
The experience of motherhood is as diverse as every one of us out there, but unfortunately we still don't have enough shows that feature lesbian moms, single moms, and potentially unconventional paths to getting pregnant. Motherstruck is a beautiful reminder that there is no right way to become a mother. As women, we should support each other along our individual paths even if we might be single, spermless, and terrified of messing it all up.
The MotherStruck series stars Staceyann Chin, Laura Gómez, Gina Yashere, and Janine Brito. It was based on the one-woman play MotherStruck written by Staceyann Chin. The series was cowritten by Staceyann Chin and Micaela Birmingham who also directed. MotherStruck premieres at the Tribeca Film Festival on April 25th and 30th. Tickets are available here.
This article was originally published on