Movement And Breathing Breaks Help Kids Focus On Learning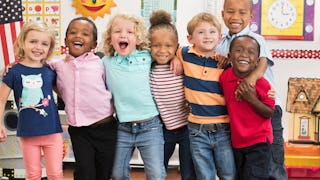 Image via Ariel Skelley/Getty Images
If schools want kids to focus on learning, they need to let them move around regularly
In this modern age of reduced (or non-existent) recess at school, kids are expected to sit still for awfully long periods of time without a break to…well, be a kid. That's why it's no surprise that researchers have discovered how much movement and taking time to breathe deeply can help a child retain their focus so they're better equipped to learn.
Even as adults it can be hard to sit still for hours on end and be expected to continue paying attention. At long conferences, there are breaks where attendees can walk around the room and regroup. Many jobs make sure employees take breaks too. Why? Because it makes them better and more productive employees. Kids are no different when it comes to their "job" of learning. They can't be robotic in their seat all day — they need to move around and get out their excess energy.
Dr. Pamela Cantor, Founder and Chief Science Advisor of Turnaround for Children in an Edutopia video series on the science of learning, tells KQED that it's simply not reasonable to expect little ones to stay still for long. "This idea of children sitting for long periods of time, they aren't naturally wired to do that," she explains. "So rather than put them in a position where they have to act out to demonstrate that they need to be able to move, building in movement breaks means that they will get some of the stress relief, some of the energy release that they need in order to be able to get calm again and pay attention to learning."
Cynthia Robinson-Rivers, head of school at Van Ness Elementary school in Washington, D.C., says the focus on working movement into the school day is particularly helpful for kids who've experienced trauma. "If we do have a certain percentage of kids with toxic stress, they have high amounts of cortisol and the way to release that is through physical movement," she explains.
Allowing kids the opportunity to move around a bit during the school day helps them to self-regulate when it's time to learn. But that doesn't mean it's still not challenging for kids to shift from a higher energy space to a quieter one — aka, lunch period or phys ed class to an ELA block. That's where mindfulness exercises can help.
Lindsey Minder, a second grade teacher, explains that she has kids take a moment for mindfulness, but rather than shut their eyes, which she says can feel "unsettling," she allows them to decide how to do it. "We talk about looking into the palms of their hands or they're looking into the seam on their sneakers, whatever works for them," she explains.
The purpose behind the mindfulness exercise is to help kids calm down before being expected to learn — and to teach them about their own needs when it comes to managing their individual needs. "The impact of the mindfulness practice is really this general sense of them being more comfortable and confident with themselves and their varying needs and decreases in anxiety around academic work," she says.
The little ones definitely understand what's up when it's time for mindfulness and movement. Ayne, a second grader, says, "We do mindfulness because during lunch, it gets a little crazy. And so, when we go upstairs, we calm down so we can transfer to writing."
My son gleefully tells me of the short periods his teacher gives him to "get the wiggles out." He may not totally understand the reasoning behind it, but he knows that it helps him focus better on his schoolwork when he's given a chance to be "silly" for a minute. Since longer recess periods are going the way of the dodo, teachers saw a need to adjust elsewhere during the day to give kids the space they need to work out their energy and come back ready to focus.
This article was originally published on