There Are So Many Moving Boxes At The White House And Praise Be
by Julie Scagell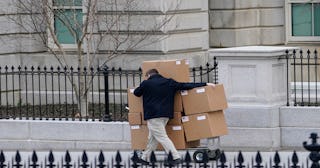 Drew Angerer/Getty Images
Pallets of moving boxes have been delivered in advance of Donald Trump's departure from the White House
It's just four days until Joe Biden's inauguration and that means the Trump team is moving on out. If you're like me and need absolute proof that this is actually happening with your own eyeballs, you'll be pleased to know there are many pictures of this most blessed event, because let's be real — Trump has been challenging the election results for the last two months, so we really had no idea if he'd actually vacate the White House, until well, now.
Moving house can be challenging, but moving out of the White House has to be massively complicated even with all the help the family receives. And moving out of the White House whilst demanding like a little bitch that you didn't actually lose the election has to sting, which is why these photos of tons of moving boxes outside the White House is tbh, the most beautiful sight in the world.
According to NBC News, a truck unloaded multiple cardboard boxes to the Eisenhower Executive Office Building on Wednesday. The building houses most official White House staff. According to the report, President-elect Biden also ordered a deep cleaning of the facilities due to the pandemic.
It's unclear what the boxes contained but I'd venture to guess unfulfilled dreams, spray tanner, his old Twitter password, and Hillary Clinton's emails.
In a normal tradition, both the outgoing and incoming presidents move in about five hours. Then, both leave the White House together to head to the Capitol for the swearing-in ceremony. But there is nothing about Trump's presidency or his failure to grasp that he will not remain president that is normal. Anyway, here's another picture to soothe your soul.
Biden's wife, Jill, said Friday (via The Washington Post) that she and the president-elect had spent the past two months preparing to move from their home in Wilmington, Delaware, and that they were "packing up our closets this morning." And According to CNN, Melania Trump has been moving items from the White House for some time and has been shipping them to Mar-a-Lago. But back to those glorious pictures of Trump's shit being moved out.
The move comes on the heels of the U.S. House vote to impeach Trump for a second time after he told his supporters to "fight like hell" against election results, which caused them to storm the U.S. Capitol. Five people died as a result. During the debate before the vote, House Speaker Nancy Pelosi asked Republicans and Democrats to "search their souls." Trump "must go," she said. "He is a clear and present danger to the nation we all love."
The State Department (via The Washington Post) announced Wednesday that Biden will stay at Blair House the night before the inauguration, which Trump has already said he will not attend. Trump is expected move to his Mar-a-Lago resort in Florida after he leaves office on Wednesday. Pop the champagne please, this man is finally out of here!