People Are Boycotting The Live-Action Remake Of 'Mulan' For Political Reasons
by Leah Groth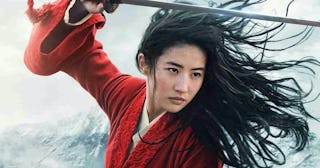 Walt Disney Pictures
Protesters in Hong Kong are boycotting the live-action remake of 'Mulan'
Over the last decade, Disney has been remaking all of our favorite animated films into live-action masterpieces. From Beauty and the Beast and The Jungle Book to The Lion King, they have managed to bring to life our favorite heroes, heroines, furry animal friends, and villains flawlessly. This week, a new trailer for the highly anticipated live-action remake of Mulan debuted to so much positive feedback on social media. However, some people aren't so happy about the studio's casting choice. In Hong Kong many are actually boycotting the film because of the lead actress, Liu Yifei, whose political and personal views are controversial.
For the last six months, protesters have been fighting for democracy in Hong Kong. While they claim police often use excessive force, the police deny the accusations, saying they are just responding to violent and criminal behavior.
In August, Yifei took to social media platform Weibo to share her views about the protests. "I support the Hong Kong police," she wrote, according to CNN. "You can all attack me now. What a shame for Hong Kong." Soon after, the hashtag #BoycottMulan quickly began trending on Twitter, which happens to be banned in China.
So, when the latest trailer was released, retelling the story of a brave, young Chinese woman who pretends to be a boy to join the army so she can honorably save her father and defend good from evil, people had a serious issue with it. It should also be noted that the Chinese take Mulan very seriously because retelling Hua Mulan, described by the Chinese government as "the most recognizable folk heroine in Chinese culture," is a huge part of their culture.
Pro-democracy activist Nathan Law is one of those leading the boycott against the film.
"A #Mulan who supports state violence and police brutality is not representing the true spirits of this character: brave, assertive and dedicated. #Disney made a wrong call and now people #BoycottMulan," he tweeted on December 5, along with an image of the official movie poster doctored up with blood, a police baton, and the words "Hong Kong Murderer" splashed across it.
"Let's tell your friends who love #Disneyland movies and products this: It is not COLL to watch #Mulan. It means you are quietly supporting wrong values that make people suffer. The film does deserve a better actress to play the main character. #BoycottMulan," he tweeted the next day.
https://twitter.com/jetpack/status/1203023288529833985
Other social media users also condemned the film, many maintaining that the casting choice is a bit ironic.
As of Dec. 7, the trailer for Mulan, hitting theaters in March 2020, has been viewed over 7 million times on YouTube.
This article was originally published on