New Show 'Murder House Flip' Combines Our Love Of True Crime And Home Reno
by Julie Scagell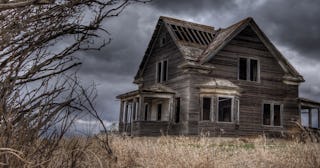 Getty/ Chuck Ortego
'Murder House Flip' will air in 2020 on new streaming service, Quibi
If you're like me, the only shows you make time for (now that Game of Thrones is over) are murder mysteries or home renovations shows. If you, too, are part Joanna Gaines meets Keith Morrison there's a show coming next year that will have you jumping for joy (whilst also saying RIP, obviously).
Murder House Flip is the next home improvement show, with one giant but — instead of renovating your run-of-the-mill suburban house, the hosts of the new series set their sights on homes where high-profile killings took place. Because murder.
Praise all that is Lester Holt, Murder House Flip will feature forensic specialists, renovation experts, and spiritual healers who will tell viewers about the good and bad history of each house and then renovate the home to the taste of potential home buyers. You know, minus the horrific killings that took place behind the walls.
The new series will air on new streaming service Quibi, an upcoming mobile-only streaming service. "We are excited to partner with Quibi to deliver a spin on a home makeover show in unique short form content," Josh Berman, Executive Producer, said in a press release (via Deadline). "Murder House Flip combines home renovations with the intriguing elements of a true crime series."
According to Berman, the show will focus on "bringing healing and solace to families living in the aftermath of tragic events by transforming dark places into healthy spaces." Yes, that mean spiritual healers will be on hand to cleanse the house of its murdery juju so that future home-owners can bask in the glory of their new abode without worrying about ghosts and hauntings and shit.
According to the press release, this show will feature houses "known for the mysterious murders and incredible intrigue committed behind their walls. Homeowners turn to the colorful cast of forensic specialists, spiritual healers, and high-end renovation experts to uncover the true crimes, shocking secrets and scandalous history of their homes. Then, cleansing renovations remove the stains of the past and take these homes from morbid to marvelous." Ohhhhhhh.
Quibi is new but already has some major powerhouses behind it including Liam Hemsworth, Guillermo del Toro, Steven Spielberg, Don Cheadle, Tyra Banks, Idris Elba, and Chrissy Teigen who've all signed on for projects. The service will "include premium scripted and unscripted content, chunked into sub-10-minute episodes," and will cost $5 monthly (with ads) or $8 monthly (without ads).
I don't know about you but I, for one, am looking forward to all things shiplap and open concept with a little bit of homicide thrown in for good measure. Add in a spiritual cleanser and all of our Saturday nights just got A Lot More Interesting.
This article was originally published on