You Can Solve A Murder Mystery While Riding A Train In Wine Country
by Cassandra Stone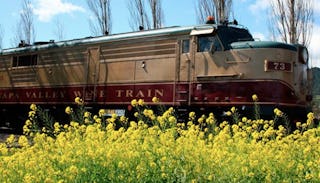 Image via Instagram/Napa Valley Wine Train
If you've ever wanted to channel your inner murder-solving, wine-loving goddess, this is the trip for you
Do you love wine? Have you always dreamed of making a "bucket list" Napa Valley trip? Do you take joy in solving murder mysteries on television? If you answered "yes" to these questions, then the Napa Wine Train's Murder Mystery tour is the trifecta of your dreams.
The minute you step aboard the Napa Wine Train, you'll be transported back to the Prohibition era of the 1920s: "Your surroundings are stylish and elegant, but things take a dramatic turn at Mafia Don Lou Zar's juice joint when someone is put on ice," the train's website describes.
Once onboard, potential suspects are everywhere — but they won't make it easy for you. In the words of Stefan from SNL, this murder mystery trip has everything: jealous, jilted lovers, a rival "mafioso," a pair of undercover feds, and plenty more. Passengers will have to gather information and trade clues with one another to solve the crime during the trip.
And, because this glorious dream trip takes place all throughout California's wine country, you'll also be wined and dined while solving the mystery. Sonoma salad, soup du jour, beef tenderloin, Yellowfish tuna, and the finest wine California has to offer are all available for your eating and drinking pleasure.
And, in case you were wondering, yes — there's a dress code. If you're going to be traveling through time, you've got to look the part. While it's not mandatory, it is encouraged. But who wouldn't want to don a tassel skirt, feather boa, sequined headband, elbow-length gloves, fedoras, and the like?
The murder mystery tour is far from the only amazing trip the Napa Valley Wine Train has to offer. The train itself is comprised of 100-year-old railcars that transport guests from around the world on a three-hour, 36-mile round-trip discovery to St. Helena and back, stopping at celebrated Napa Valley wineries along the way.
There are also tours for sightseeing, romantic getaways, dinners, and full-day wine tours available, so head to their website to see what one you like best!
There are plenty of hotel packages to choose from when selecting the train trip you prefer. But if you ask me, there's nothing better than a murder mystery alongside a dream landscape and luxurious surroundings. Oh, and the wine. The Napa Valley wine is reason enough to book your trip (no driving!), but the old-timey murder mystery is just *chef's kiss* perfection.