Muslim Beauty Queen Makes History By Not Wearing Bikini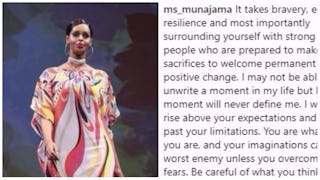 Image via Instagram
This is a pageant game-changer.
She may not have won the competition, but she did win the right to not wear a bikini in the Miss Universe pageant. And for that, we crown her queen anyway.
Muna Jama, a Muslim woman competing in the Miss Universe Great Britain beauty pageant made history this week for being the first woman to not wear a bikini or bathing suit for the swimsuit portion. Instead, she wore a colorful kaftan, accessorized with a choker and hoop earrings– and totally slayed while doing it.
https://www.instagram.com/p/BWsZez2j-hT/?taken-by=ms_munajama
"It takes bravery, emotional resilience and most importantly surrounding yourself with strong minded people who are prepared to make great sacrifices to welcome permanent and positive change," she writes in the caption of her Instagram post with the now-famous kaftan moment.
"This moment has proved that I am capable of almost anything I set my mind to and limitations is a status waiting to be changed. I thank everyone who stood beside me and believed in my vision," she writes.
While she didn't win the qualifier to the Miss Universe competition that day, she won over hearts and opened minds. Now that is what ultimately makes her a queen.
https://www.instagram.com/p/BWsWR5yD_BB/?taken-by=ms_munajama
Jama was authentic and unrelenting from the start. Before participating in the Miss Universe Great Britain pageant, Jama — the founder of the start-up Cloudless Research, which addresses child abuse and illegal migration — made it clear that she wouldn't be wearing a bikini for the swimsuit round.
"I wouldn't wear a bikini to a beach, so I'm not going to wear one in a competition to score points," Jama tells the Metro U.K.
She said she would sit out of the swimsuit portion if it meant she had to wear a bikini, because it's against her religious beliefs. But reportedly, after talking with the pageant heads it was decided that she could wear a cover up if she wanted to.
We are currently in an ever-changing, evolving, very globally connected and diverse world. Sometimes rules are rules, and sometimes past restrictions do not serve us in the present. Things change. Knowledge changes. Rules change. And change, while uncomfortable for many, is important and so necessary to propel forward.
https://www.instagram.com/p/BWfIuzzDInF/?taken-by=ms_munajama
Ultimately it comes down to this: a young woman with a vision to change something for the better, just did it. Because of her unwavering conviction, she inspired others. Additionally, through her historic moment she also showed us that representation matters. If the younger set sees it, they can believe it for themselves.
Now that's a truly beautiful thing to come from a beauty competition.
This article was originally published on