'Americans Think Every Muslim Is A Threat' - Family Headed To Disney Denied Entry Into US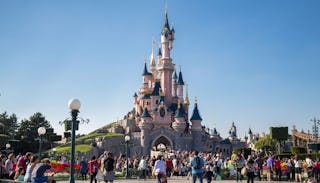 This family was blocked from boarding a plane to Los Angeles with no explanation.
A family was headed to the happiest place on earth, until their planned vacation took a decidedly unhappy turn. A British Muslim family was turned away by U.S. officials while trying to board a flight from Gatwick to Los Angeles, to take a trip to Disneyland.
According to the Guardian, the family of 11 — two brothers and their nine children, all between the ages of eight and 19 — had saved for the trip for months, and applied for and obtained travel authorization weeks before their scheduled flight. The family say everything was going as planned, until they were approached by U.S. security officials as they waited for their flight and told their authorization had been cancelled, with no further explanation.
The kids, who'd been looking forward to the trip for months, were devastated. To make things even worse, the family say they were escorted from the airport like criminals, asked to return everything they purchased in the duty-free airport shops, and they've been told by the airline they will not be refunded the $13,340 they spent on airfare.
One of the brothers, Mohammad Tariq Mahmood, told the Guardian he doesn't know the official reason why their travel authorization was revoked, but said it's probably "because of the attacks on America – they think every Muslim poses a threat." He adds, "I have never been more embarrassed in my life. I work here, I have a business here. But we were alienated."
Disturbingly, other Muslim travelers have had similar experiences. The Guardian reports British parliament member Stella Creasy wrote to the prime minister this week after a "growing number" of British Muslims say they've been barred from entering the U.S. without explanation. She says she's "hit a brick wall" in trying to get U.S. officials to explain their actions and needs the prime minister to use his authority to get some answers.
It's disturbing to think about any family being treated this way, especially when they've jumped through all the necessary travel hoops and have all their ducks in a row. We may not know the exact cause for them being turned away, but Mahmood's speculation about the reasons and about the growing culture of irrational fear in the U.S. is probably not far off. Why else would British citizens with a bunch of children be turned away so abruptly?
Whichever way you spin it, this looks like unfair treatment and discrimination, and we should all be worried if this is the new norm. To be denied travel, escorted out of the airport, denied a refund, and then for officials to refuse to offer any explanation on top of all that? That's terrifying, and if we care at all about rights or freedom, we shouldn't be okay with it happening to anyone, anywhere. These brothers deserve an explanation and a refund, at the very least, for what was surely one of the most disappointing and humiliating experiences of their lives.
This article was originally published on