Muslim Restaurant Invites Those In Need To Eat For Free On Christmas Day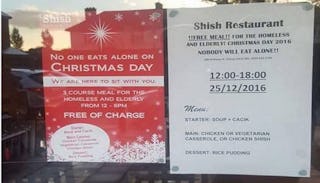 Muslim restaurant owners display true spirit of Christmas by offering meals to those in need
The owners of a Muslim restaurant in London displayed a poster in their window inviting the elderly and homeless to dine for free on Christmas Day.
Leave it to non-Christians to remind us what Christmas is actually all about.
A story on Babble details the specifics of the restaurant's offer. Shish Restaurant is located in the southeast London neighborhood of Sidcup but suddenly has fans all over the world, thanks to images of the poster spreading around social media.
"No one eats alone on Christmas Day. We are here to sit with you," reads the sign the owners of Shish posted in their window, inviting those most in need of company to enjoy a three-course dinner on the holiday.
Sally Cudmore's Facebook post has garnered a lot of attention, accruing over 6.5k likes, 13k shares, and over 600 comments since it was posted two weeks ago. And Twitter has picked up on the restaurant's generosity as well.
2016 has been a rough year all around the world, and social media is often a place where bad news and incivility reign. So it's especially nice to see a message like this catch on, especially during the Christmas and holiday season, when comfort and joy are more necessary than ever.
An employee at the restaurant, Hasan Masud, told BuzzFeed News, "We're just helping people…lots of people stay home alone for Christmas. … They don't need to. They can come here and have some fun."
With all the attention they're getting online, not to mention a free three-course dinner topped off with the traditional holiday dessert of rice pudding, something tells me Shish is going to have a great Christmas day. And so is anyone who takes them up on their offer.
This article was originally published on