10 Must-Register-For Baby Items That Won't Make Your Eyes Bleed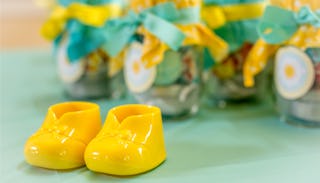 Charles Knowles / Shutterstock
Putting together a baby registry can be a little overwhelming. When I was roaming the aisles of our baby store, scanner in hand, it was daunting to see all the choices in front of me. It was also discouraging how damn ugly so much of it was. My home was about to be overrun with bold colors and zoo animals, delivering an aesthetic gut-punch. My baby wasn't going to care what any of this looked like. So why did it all seem to be designed with his tastes in mind and not accounting for the fact that I didn't want my eyes assaulted every day?
With some research, I found that there were more choices out there. It is possible to register for the essentials without sacrificing style.
Baby gyms are a great place to play with your baby and encourage movement. It's also aces for setting the baby down when they're wide awake and you need to eat or use the bathroom. This one from Skip Hop is easy on the eyes and includes lots of activities and soft toys as well as a small pillow for tummy time.
Rock 'n Plays came out right after I had my first baby, and I made sure to get one for my second. It was a great place for my daughter to nap. It also folds flat and is easy to transport, so I could bring it to a different part of our house and even out for a visit with family. It made getting out of the house more enticing when I knew she could still nap while we hung out with my grandparents or friends. There's also a million colors and patterns, so you can find one that suits your tastes.
This carrier is awesome because it doesn't require a newborn insert. It adjusts to fit a brand new squish, so you don't need to add the extra bulk of an insert or use a different carrier in the early months. If you're only interested in owning one carrier, this Ergo is a great choice.
These blankets are one of my go-to gifts for every baby shower I attend. I don't know what kind of micro-infants regular swaddling blankets are made for, but these are it. They're huge, so you've got plenty to work with. Plus, they're thin and airy, so you don't have to worry about baby being too hot. They also make great nursing covers and can be tossed over a car seat or stroller for a breathable sunshade or to keep strangers from pinching cheeks. Strangers think it's okay to do that. I don't know why.
I love the Keyfit. Love. It's easy to install, easy to carry, and easy to use. I don't care how safe a car seat is if it isn't easy to use and install. There's too much room for error, otherwise. We bought an extra base for my husband's car so we could just snap the seat into whichever car we were driving. I also highly recommend their stroller frame. The car seat clicks right in so you don't have to unbuckle the baby from the car seat and then buckle them into a separate stroller, and you won't disturb a sleeper. It also has a huge cargo bin underneath. This whole system is one of my top baby items.
Jumpers are one of the biggest offenders in the ugly-baby-gear department. I don't understand why something has to be loud and look loud at the same time. This jumper from Skip Hop, one of my favorite brands for cute gear, looks modern and clean. It also converts into an activity table when baby starts standing and cruising, and can later just be a table when your child is older.
My daughter is almost 2 years old, and we still use this every night. The rain sound has been a cue for her at nap time and bedtime since she was an infant that it is time for sleep. She hears it now and lays her head down. It also blocks out some of the noises around the house when she's falling asleep.
Did I mention I love Skip Hop? I received one of their diaper bags as a hand-me-down during my first pregnancy, and I've been hooked ever since. With plenty of pockets with zipper and magnet closures, it's easy to keep everything organized. It also comes with a changing mat. The simple design comes in lots of colors and there is ample space inside. My absolute favorite feature is the stroller clips. I can securely attach this bag to my stroller or shopping cart, and it unclips quickly when it's time to leave.
Those turkey-baster bulbs they give you to suck snot out of your baby's nose? Total garbage. They're ineffective, and you can't properly clean the inside. The NoseFrida works so much better. It may seem gross to suck snot out with a tube in your mouth, but don't worry. All the green gook is filtered out. You're able to more efficiently clear your baby's nose, which means less time spent doing something you know they hate and a faster path to clear nasal passages. This is the other go-to item I bring to all baby showers.
I only made it a few months nursing both of my kids, and they both needed to be supplemented with formula early on. Even after they stopped breastfeeding, I kept using this pillow. It was just more comfortable and kept my babies at a better height for feeding without my arm falling asleep.
Babies have a habit of taking over your life. Rude. But at least you can get through it without plastering your house in something other than zebras and Classic Pooh.
This post contains affiliate links, which means we receive a small portion of the sale if you make a purchase using this link.