Must-Have Treats For People Who REALLY Dig Cookie Dough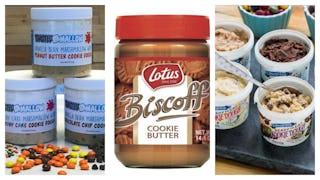 Toasted Mallow (left)/Target (center)/The Grommett (right)
I have a tiny confession: I'm addicted to cookie dough.
Okay, so that isn't really much of a confession because, really, who isn't addicted to cookie dough, right?
Look, life can try it's hardest to beat us down, and we all deal with stress in different ways. Some people meditate or do yoga. Others gossip and vent with their girlfriends. Personally, I like to manage my stress by texting gifs to my BFF and binge-eating cookie dough like it's my job.
Now, I'm not one to worry about a little thing like salmonella so when I'm craving some of that doughy goodness, I'll dig right into the real stuff (raw egg and all) without giving it a second thought. But I understand that I'm a little "lax" in that respect. So, if you're like me and like to get cozy with a spoon and some sugary simple carbs, but don't want to risk food poisoning…behold, some of our favorite cookie dough treats.
What 80s kid doesn't have fond memories of spoonfuls of Marshmallow Fluff or Fluffernutter sandwiches (peanut butter and fluff sandwiches)? Combine that with cookie dough and you have a little slice of heaven in a jar. According to Delish, Toasted Mallow — located in Arizona — sells edible cookie dough swirled with marshmallow fluff in its store and online. Side note: I wonder if they have overnight shipping.
For those of you who are cookie dough purists, but get skeeved out by the thought of consuming raw eggs, The Grommett makes a bunch of egg-free cookie dough in all kinds of fun flavors like Chocolate Chip Off The Ol' Block, Birthday Bash, Cookies N' Dream, Cravin' Oatmeal Raisin, and (my personal fave) S'More Please.
The Cookie Dough Café in Portland, Oregon is exactly what it sounds like – a café that sells cookie dough. Or as I like to think of it, heaven on Earth. Don't worry, even if you don't live in the Portland area, you can get your hands on some of this sugary goodness online.
Okay, so this isn't really cookie dough, but close enough. And if your cookie dough craving happens to hit while you're out shopping – and let's be honest, it always hits when we're out shopping – you can pick up Biscoff's cookie butter spread right off the grocery store shelf. But you might want to wait until you're in the car to dig in, lest you risk strange looks from fellow shoppers and store personnel.
The Doozie Bar is a cookie dough candy bar and, according to Soozie's Doozies (the maker of this deliciousness), you can buy them at a ton of grocery stores around the country. Well, what are you waiting for? Get in your car and GO!
If you like your cookie dough in tiny pieces or as a topping to ice cream, you can go all out and get 5 lbs. here.
Look, parenting is hard. Adulting is hard. Life is hard. It'll kick your ass, that's for sure. So, we have to take our simple pleasures where we can. And sometimes that means a spoonful (or 7) of cookie dough. Dig in.
Editors may receive samples and/or a share from purchases made via links on this page. All opinions are our own.